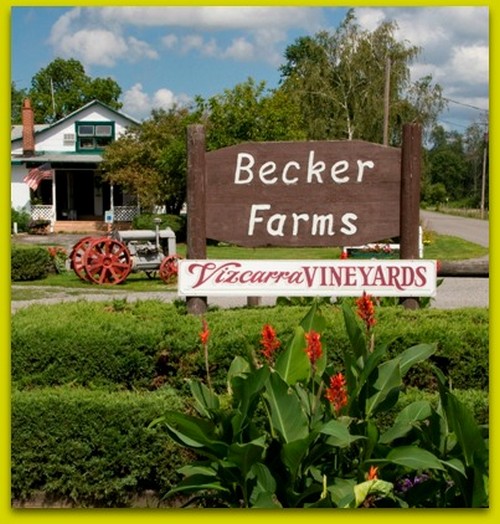 During the TMS Family Travel Conference we had the opportunity to tour the Becker Farms and Vizcarra Vineyards in Gasport, NY.  Becker Farms and Vizcarra Vineyards is a 5th Generation family owned 340 acre working fruit and vegetable farm that sells most of their products directly to the public.  I was very excited to visit a farm since living in the city for the past couple of decades I don't often get a chance to visit the countryside and experience nature or farm life. I was born in a rural environment and being on Becker Farms brought back loads of warm memories.
When we arrived at the farm we pulled up to a barn and waiting for us as we entered was hot apple cider and/or hot mulled wine.  I chose the apple cider and it was absolutely delicious.  The best I have ever tasted.
When we entered the barn we all sat on hay stacks and Mrs. Mindy Vizcarra, owner of Becker Farms spoke to use about the history of the farm and the services they offer.  Mindy explained, "For the past 100 years Becker Farms has harvested its own fruits and vegetables to provide fresh produce and a wide variety of value added products such as hand-made pies, jams, cookies, cider, fudge and wines."
Not only is it a working farm but they make their own wines and brew their own beer.  They offer a selection of wines and 8 different locally produced artisan hand crafted micro brews.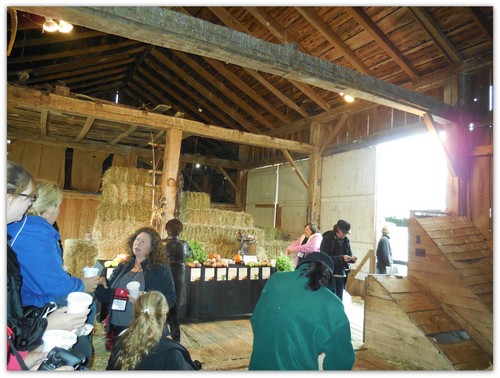 Once we were finished in the barn we headed out to take a tractor ride to get to the apple picking area.  Mindy made sure to hand us a bag so we could all take home the apples we picked.  We were lucky because the weather was gorgeous.  It was an early fall afternoon, cool, crisp and clear but warm enough in the sun.  As this city girl rode in the tractor I snapped plenty of photos.  I just kept thinking how great it would be to come back with my granddaughter, Ava.  You can't beat time spent with your loved ones.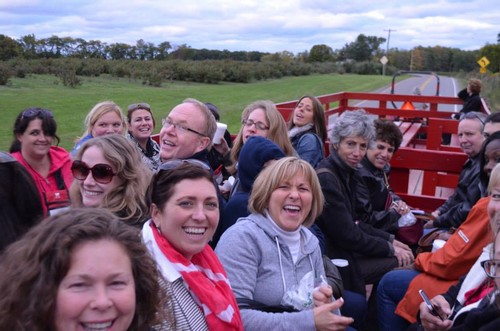 When we arrived at the orchard Mindy gathered us all around and taught us the proper way to pick an apple.  She explained we should roll the apple upwards off the branch and give a little twist.  We should not pull the apple straight away from the tree or downwards.  Once we were trained expert apple pickers it was time to pick.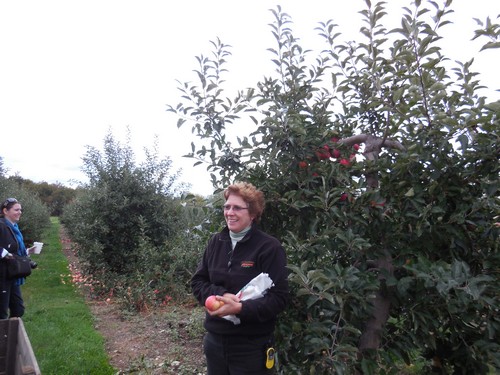 I was so excited I had not picked apples in a very long time.  The branches of the trees were branches were so heavy with apples they were almost touching the ground.  I could not decide which type of apples I wanted to pick and then I saw my favorite, a Gala apple.  Gala has a distinctive orange color and a remarkably sweet taste.  My next favorite were the Empire apples, the color was amazing. Being amongst the heavy trees full of ripe fruit creates a feeling of well-being and happiness – no wonder famers live so long!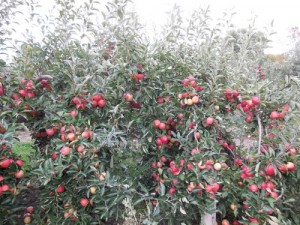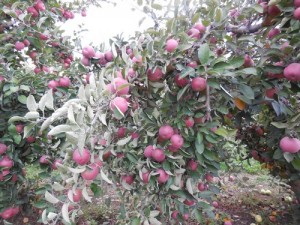 We had a great time in the orchards and then headed to the petting zoo.  There are animals to pet and feed, including llamas, goats, pigs, chickens and ponies – okay you don't pet the chickens but they love to be fed! There are areas for children to run around and play, mazes, pig races, pony rides and a whole lot more.  We even got a chance to horse around a bit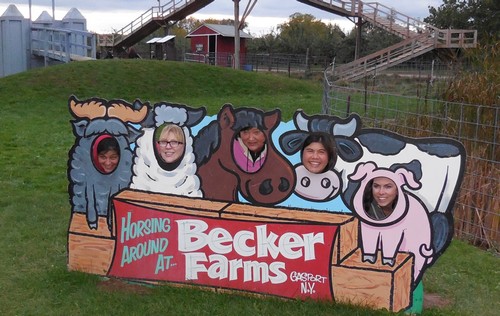 After a memorable day we headed back for dinner.  "Becker Farms has adopted a field to table approach with all of its catered events serving items grown and picked for the occasion right from the farm or brought in from other local growers within a 100 mile radius of Becker Farms. Becker Farms believes that a farm fresh meal is a very basic yet integral part of maintaining a strong bond with families and friends. We believe this philosophy strengthens our communities and enriches our lives."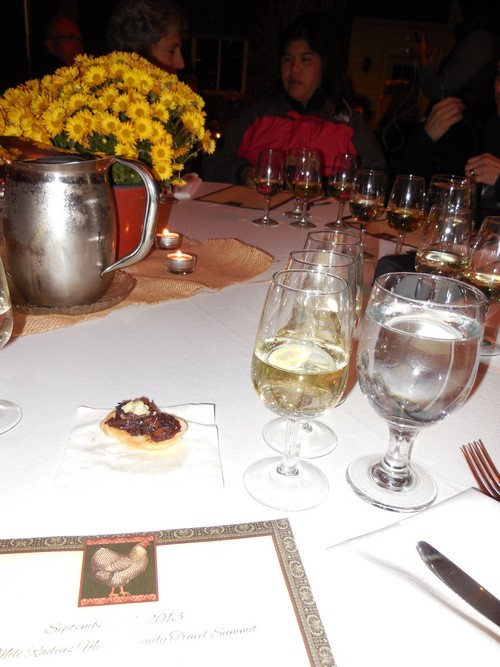 I just loved the concept of farm to table, the five course meal was fabulous, the wine divine, the service great and the staff was just amazing in their willingness and ability to please and go that extra mile.
To top off an unforgettable experience once we were finished dinner we headed outside and they set up a campfire for us to sit by. It brought back memories of when I was a little girl living in the country.  This was an experience I will always remember and I will certainly visit again with my family.
[CLICK ON THE IMAGES BELOW TO ENLARGE MORE PHOTOS OF BECKER FARMS]
Disclosure: I was given the experience at Becker Farms and Vizcarra Vineyards as part of the TMS Family Travel Conference.  All opinions expressed here are those solely of the writer.