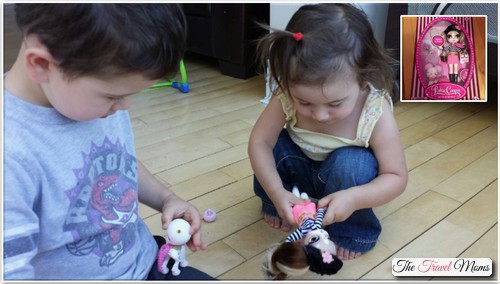 This year when The Travel Moms attended BlogHer13 one of the events we were invited to was the Sweet Suite 2013.   After the event we were sent a box containing many toys.  One of the toys included was Pinkie Cooper & The Jet Set Pets.
When my husband and I travel with our family we are always looking for toys and pastimes that help our children enjoy their travel and help occupy their time creatively. To this end we found Pinkie Cooper the perfect travel companion!  You see Pinkie Cooper is an anthropomorphic dog who has her own pets.  A brilliant idea – not only do children love doggies but they love that Pinkie Cooper cares for her own little puppy pets! What makes Pinkie Cooper even better is that Pinkie travels to various national and international destinations with each destination in the set having its own distinctive design to represent the location.  Pinkie Cooper is not only loads of fun, it allows children to be creative and to learn.
My two-year-old daughter Maya loved Pinkie In Paris and her three-year-old brother Mason enjoyed joining in the fun playing with Pinkie's pet puppy. Pinkie in Paris is dressed adorably in fashions and accessories inspired by Parisian Style and Couture – she has an adorable little pet dog called Lil'Pinkie.  Maya liked that Pinkie and Lil' Pinkie's hairstyles and fashion could be mixed and matched.
Pinkie is approximately eight inches high and she has large brown eyes and she really is cute.  Pinkie has a small heart painted on her forehead, and also has small pink hearts painted on the palms of her paws. This version of Pinkie Cooper, Pinkie In Paris, has two-toned blonde and brunette ears and they are styled into loose curls.
Pinkie's ears/hair are made to be removed and can be turned to show either blonde or brunette hair. The hair can be exchanged between other Jet Set Pets, other versions of Pinkie or her fashion packs. The hair pieces have small plastic plugs that easily fit into small holes on either side of the doll's head. The hair fits in snugly and will not fall out on its own.
It just happened that the day the box arrived we were preparing to take a family trip to the beach.  While we were packing the car, Maya and Mason were kept busy for enough time so that we were able to get everything ready.  During our drive Maya continued to play with Pinkie – she loves her and they have become inseparable.
If you want fun toys that will bring your children lots of enjoyment then Pinkie Cooper & The Jet Set Pets make a perfect choice.  To see the whole Pinkie Cooper collection head over to the Pinkie Cooper website,  [CLICK HERE]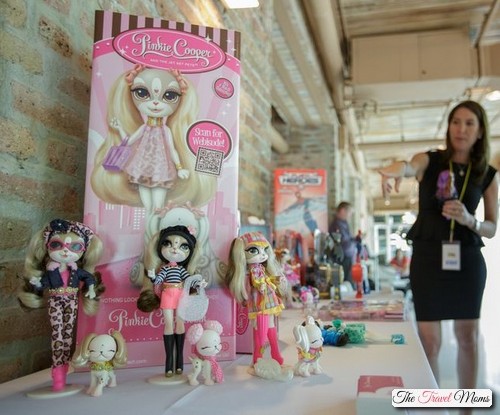 Disclaimer: We were sent (one) Pinkie In Paris doll for review; however, we received no other form of compensation for the publication of this article. All opinions expressed here are those solely of the writer and not of Bridge Direct.