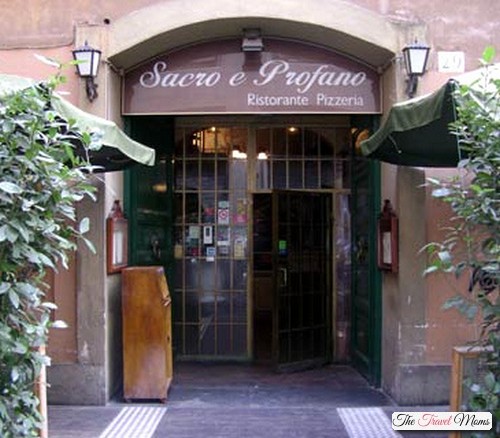 Ristorante Pizzeria Sacro e Profano is gorgeous inside as it is situated within and without of a former church which is said to be 1,000 years old and serves spicy southern Calabrese Italian food.  The restaurant is located not far from the Trevi Fountain in Rome but far enough away to be good.  We found the restaurant in our Rick Steves Rome book and as usual it did not disappoint.
If you choose to sit inside sit upstairs in the restaurant and you can see the old organ and art/murals on the walls.  If you look downstairs you can see the old pizza oven where they cook pizza.
On this trip to the restaurant we chose to sit outside on the spacious front porch and enjoy the weather and the accordion players that come by.  For a small gratuity they will take requests but it is definitely worth it.
Our waiter recommended we try the mixed house hot antipasti which was the highlight of our meal.  After we ordered the waiter brought another table to fit beside the table we were sitting at and we wondered what it was for.  We soon found out it was for our antipasti.  The antipasti consisted of six hearty house plates for €15 and it was a collection of Calabrian treats. It included swordfish, eggplant, sausage in crepes, potatoes in oil, cured meats and a delicious spicy anchovy paste.  We have been to many restaurants in Rome and this is without a doubt the best antipasti we have had.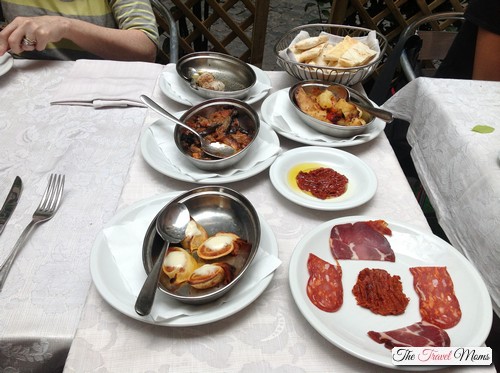 Since it was lunch time we decided to have a Primo but not a Secondo.  I chose to order the pumpkin ravioli with sausage and chestnuts with sage browned butter.  It was fantastic, there were eight pieces of half-moon shaped ravioli and it was cooked to perfection.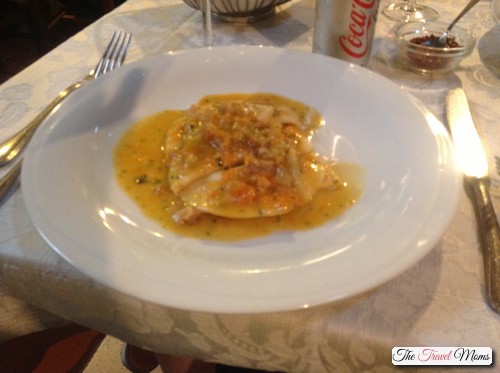 My husband chose the Ravioli with swordfish and shrimp with tomato.  The ravioli comes as eight pieces filled with swordfish and topped with tiny chopped shrimp and a tomato based sauce. The pasta is hand-made and there is a fresh seafood flavor to the dish and it was perfectly seasoned.
We highly recommend this restaurant, one of our favorite dining experiences in Rome.  The food is affordable and cooked to perfection.   The ambiance and the service are excellent.
Ristorante Pizzeria Sacro e Profano is located one block off Via del Tritone at Via dei Maroniti and is closed Sunday.  We recommend you make a reservation if you are going for dinner.