Once a year my cousins and I who live in different provinces in Canada head to New York City for a family vacation.  Generally we go in November, but this year we decided to go in December to enjoy all the Christmas lights and decorations.  We all agreed it was a great way to get into the Holiday spirit.  When we booked our trip we really had no plans to go to The Rockefeller Center Tree Lighting, since the event is generally held at the end of November.
A couple of months after making our reservations my cousin discovered that we would be in New York City during the 81st Annual Rockefeller Center Tree Lighting.   The list of musical guests slated to appear included Mary J. Blige, Toni Braxton, Mariah Carey, Kelly Clarkson, Kenny "Babyface" Edmonds, Goo Goo Dolls, Ariana Grande and Jewel performing current hits and holiday classics.  We were all beyond excited.
Although we read that tens of thousands would crowd the sidewalks for the event, we thought it was an exaggeration.  The ceremony was taking place on December 4th, 2013 from 7-9pm and we all agree that getting to Rockefeller Center at 3PM would be early enough.  This was our first mistake.  As we walked to Rockefeller Center we snapped some photos of the magical decorations along the way.
It was a cold brisk evening and several of us had not dressed properly and we were soon chilled to the bone.  As we got closer to the event the crowds got larger and the security more robust.
We decided to head into the event by going up 50th street.  The street was partially blocked off and police were checking purses before we could go through the barricades.  Absolutely no backpacks were allowed to proceed to the event.  Once we got past security as we walked closer there were 1000s of people.  At that point we knew 3PM was far too late to get us close to the event.  We were adrift in a sea of people being buffeted about by the crowds and could not even see the tree.  Being 5 foot 2 all I could see were people.  One of my cousins who is 6 feet tall could catch a glimpse of the tree.  I asked her to lift me on her shoulders but she didn't think that was a great idea.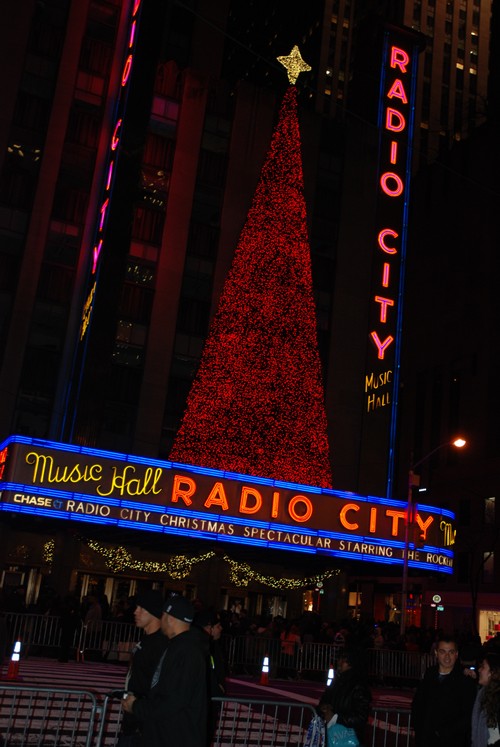 Then I got the bright idea, or at least I thought so at the time, to head to 5th avenue and walk to Saks Fifth Avenue, then cross the street and go into Rockefeller Center that way.  My reasoning was that even if there were crowds because we were facing the tree head on at least we would be able to see it.  As we headed towards 5th avenue we found many streets blocked and barricaded and had to go through several detours.  It took us a long time but we finally arrived in front of Saks Fifth Avenue below is a photo of the crowds of people we faced.  We made a unanimous decision to skip the tree lighting, go to dinner, warm up and come back the following day to see the tree.
The next day when we came back we got to see the tree lit up.  There were still 1000s of people but at least we could get close to it.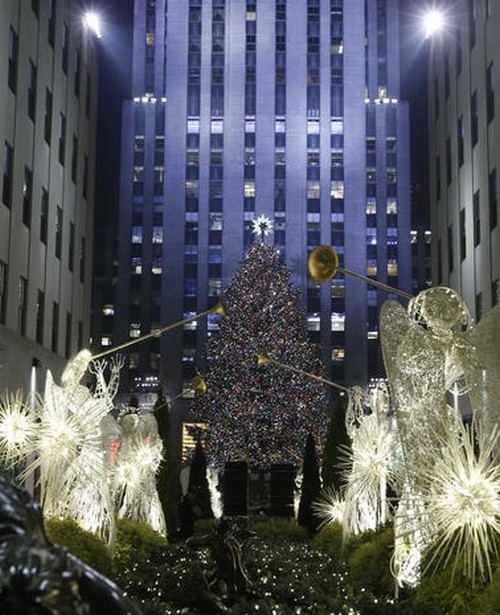 The tree this year is a 76-foot Norway Spruce and from Shelton, Conn. Mayor Michael Bloomberg turned on the lights just before 9 p.m., setting off a dazzling 45,000 multi-colored LED lights and a 9 1/2-foot-wide Swarovski star that topped the 12-ton
The moral of the story, if you want to go to the 2014 Rockefeller Center Tree Lighting get there much earlier than 4 hrs before, dress warm, no backpacks and make sure to take  a good camera.