Halloween Fun: The Walking Dead Invades Universal Studios for Halloween Horror Nights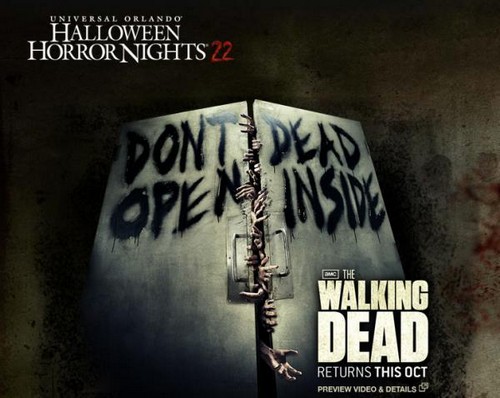 For the second straight year Fans who love AMC's "The Walking Dead" will have a chance to walk in the footsteps of the human survivors and be threatened by terrifying Zombies.  Universal Studios Hollywood and Universal Orlando Resort debut all new terrifying mazes inspired by Season 3 of the show at this year's Halloween Horror Nights events beginning September 20.
There's not much time before the opening of Universal's Halloween Horror Nights event where they bring to life many horror franchises that we all know and love. Though it seems that this year we've got something truly special and interesting -they've decided to create a maze based on The Walking Dead franchise… get through it or get eaten trying!
The maze is called The Walking Dead: No Safe Haven and this isn't the first time that they've made a Walking Dead maze. Last year the Walking Dead maze was based upon the first two seasons of the show, but for this year's version they're creating something much more special. The maze will now be based on the third season of the AMC show and it will set in inside replicas of the prison and Woodbury.
From Unversal Orlando's Press Release:
"What's great about working with a property like 'The Walking Dead' is that each season presents new environments and characters for us to draw inspiration," said John Murdy, Creative Director for Universal Studios Hollywood.  "With the prison as the main setting of Season 3, we seized this opportunity to recreate that very environment, down to the last detail, to be as genuine and authentic to the show as possible. Using movie-quality production value, our goal is to make guests feel as if they are mired in the world of blood-thirsty zombies, which is something you can only do at 'Halloween Horror Nights.'"

"The goal is always to surround guests with authentic and terrifying experiences," said Michael Aiello, Creative Development Director for Universal Orlando's Entertainment team. "The combination of 'The Walking Dead' themed street experiences and the haunted maze will make it difficult for our guests to escape the hordes of ravenous walkers they've seen on their television.  The moment you pass through our gate, you become a survivor fighting for your life."
There will be a ton of actors there that'll be giving a believable portrayal of walkers and people who've been affected by the zombie apocalypse. There will be versions at both Universal Studios Hollywood and Universal Orland Resort so no matter which one you choose to go to you'll get to experience The Walking Dead first hand. The Halloween Horror Nights will begin on the 20th of September, and it's expected be something incredibly awesome; it's something that's definitely worth checking if you're near where Halloween Horror Nights are being held. If you're into the Horror genre or if you're looking for a great way to spend an amazing night then make plans to go and experience it with family and friends.
For more information about "Halloween Horror Nights" at either Universal Orlando Resort or Universal Studios Hollywood [CLICK HERE]