Mommy and Daddy Luxury Getaway At Le St-Martin Hotel Montreal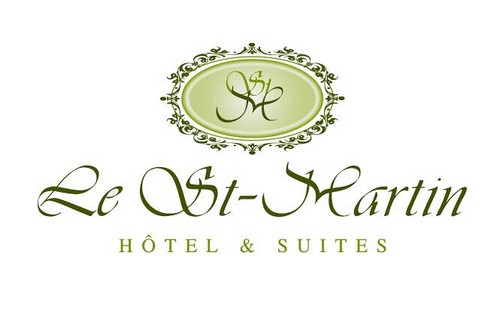 This daddy has been in need of a luxury hotel getaway for some time, so a stay at Le St-Martin Hotel didn't come soon enough! As the saying goes, good things are worth waiting for and Le St-Martin did not disappoint.
Located right smack dab in the center of Montreal's downtown area, the combination of hotel luxury mixed with the proximity to the best shopping, entertainment, and bar/club scene in the city makes this somewhat recent addition to Montreal's hostelry industry an incontournable as they say in Montreal – it's a must-do when you are in the city. Simply put, just don't miss it!
Le St-Martin is a trendy, modern hotel influenced in interior room design and overall feel by French haut de gamme design. Design of the corridors and rooms is relatively simple but poignantly focused.  This creates the kind of feel you expect from a modern, upscale New York boutique hotel – the difference is you'd pay about the 3 times the going rate for Le St-Martin in NYC and will probably get a more compact room, and most likely no huge stand-alone bathtub.
The French influence is seen in their naming of the different suites: Lyon, Avignon, Toulouse, Versailles, Marseille, and Cannes. Suites are primarily differentiated by their size in square feet going from 350 sq. feet for the Lyon to 650 for Cannes. The price you pay will most definitely be reflected in the size of the room so make sure you choose wisely, though you'll probably get all your needs met with even the least expensive of the bunch. Here are the features most rooms are equipped with, right from Le St-Martin's website:
Queen bed with Laurier heavenly mattress
Complimentary Premium high speed wireless Internet
LG 42 Inch LCD TV
HD movies on demand
HD Channels
Marie l'Oie Duvet comforters and pillows
Non-allergenic comforters and non-allergenic pillows available upon request
Bathrobes 100% cotton
Bamboo towels
Standing Glass Shower or TubShower
Fireplace (in certain rooms) $
In-room Keurig coffee machine
In-room hair dryer, iron and ironing board
Tivoli Ipod docking station
Mini-bar $
In-room safety deposit box
Work table with ergonomic chair
2 telephones with modem and voicemail
Morning paper delivered to your door (except Sundays and holidays)
My wife, Robyn, and I loved the St. Martin Hotel. The room was large and beautifully decorated, the beds were very comfortable, the linens of high quality with warm down comforters and pillows.  To add to the ambiance there was a very pretty fireplace in the room.
Undoubtedly, the biggest stand out for us in the room was the incredible bathtub. Bathtub or Jacuzzi? That thing was HUGE, way bigger than your typical hotel bathtub, and that of course that was a good thing.  If you don't have that kind of tub or a Jacuzzi at home I think you'll agree there's nothing more relaxing that enjoying a luxury bath for some stress relief.  There was a bath products store about 5 minutes from the hotel, we splurged and got lavender and orange peel bath soaps which are some of our favorites.
Really, everything you could would want is about a 5 minute walk from the hotel. You want Mexican food? You can take a little stroll down Ste-Catherine street to the best Mexican restaurant, 3 Amigos – their drinks are the BEST I've ever had. Chinese? Well, you'll pass about 3 dozen restaurants in any which direction within a 5 minute walk. You seriously will find any kind of food right at your fingertips. This includes the best Sushi around – restaurant Sho-dan which is literally right on the other side of the street.
You could also just choose to do what Robyn and I did and stay in our amazing room and enjoy a 5-star quality dinner.  The resident restaurant, L'aromate, offers some of the best French food around, using top of the line ingredients.
You'll see some pictures below of the delicious foods we ate during our stay.  The Potage du Jour, which was a cream of broccoli soup – was EXCELLENT!  It came with slices of French baguette to help you soak up the creamy goodness.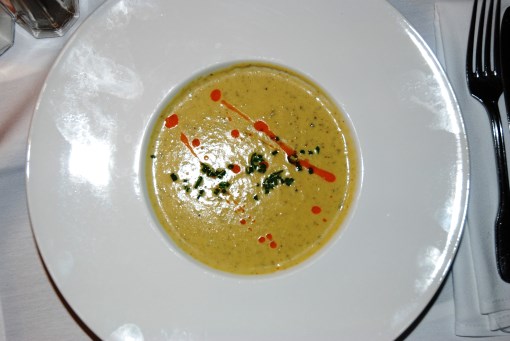 For the main course we had Beef Tartar and the Burger. The Tartar was the best I've ever had and I've had my fair share over the years. The slices of beef were much bigger than usual, as tartar is usually diced or chopped to fine to medium-fine degree.  These were more like chunks but when you're using Wagyu beef, which is super tender and delicious, it worked perfectly.  The burger was also made of Wagyu beef, Robyn said it was the best Burger she's EVER had.
Robyn and I both felt that the meal experience was amongst the best we've ever had.  The restaurant hit the bullseye for us. And the best thing about ordering room service is that we didn't have to leave our heavenly suite.
Additionally, in the morning we ordered breakfast and the meal was treated with the same care that their regular menu receives. Some of their portions were HUGE! Try eating that entire sausage breakfast platter, including croutons and toast. I did, but I'm not sure most people could…
Some of the other things you can do at the hotel include swimming – they have the cutest little pool with a specular view – and working out in their superb fitness center, which is something I really wish I could have done, but that breakfast I was talking about took almost an entire day to digest!
The staff is super nice and friendly and will arrange things in a flash for you. The cleaning lady had taken the bath robes out of our room so we called reception to ask for new ones. They were there almost as soon as we hung up!
Overall, this was without a doubt one of the best hotel experiences we've had as a couple and would definitely return. Our Montreal hotel getaway trips are usually more focused in the old town area, but Le St-Martin has made us rethink our strategy. The combination of location, price, and the incredible room-service restaurant makes this hotel an experience that any and all who sojourn in this town won't want to miss.
To find out more about the hotel you can visit their website.
Disclaimer:  The Travel Moms were  provided (2) night stay at the hotel for the purpose of review.  All editorial content has been created by me and reflects my personal opinions.