Restaurant Review: De Vlaamsche Pot – Bruges, Belgium "Hearty Food, Fantastic Fries"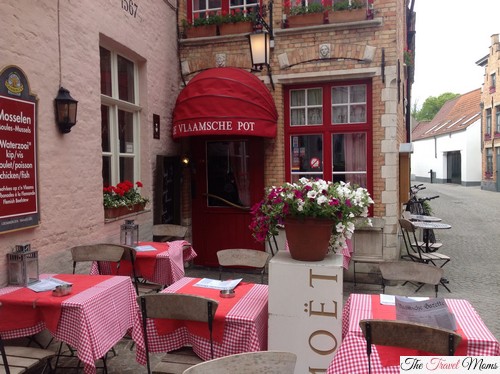 On our recent vacation to Bruges, Belgium we spent a day at the Groeninge Museum. I was excited to visit the museum because it houses paintings by early Flemish artists, including Jan van Eyck, the first and greatest oil painter! Bruges already had special significance to us for being his adult home and working place. May 26th, 2013 was a sunny day and a perfect day to visit the museum.
I was most excited to see Jan van Eyck's The Madonna with Canon van der Paele which is one of the masterpieces of the museum, and in fact, the world. It is one of van Eyck's later works and depicts clearly why he was one of the world's greatest oil painters. Van Eyck's ability to express the detailed humanity of his subjects was far ahead of his time.
The second painting at the museum that stood out with was Last Judgement by Hieronymus Bosch, considered one of his best. The work is different and somewhat bizarre and I am sure there are many ways to interpret it. It seems to be a dire warning from a time when Roman Catholicism dominated thinking of the potential dire consequences of giving in to the appetites. It is amazing that it was done circa 15c as it betrays an almost post-modernist imagination.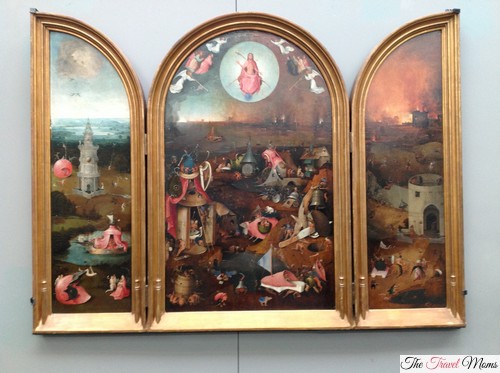 Once we finished our morning at the museum looking at all the wonderful paintings, it was time to look for a restaurant – our appetite for amazing art sated, we still needed to eat!  We grabbed our Rick Steves book to find one.  We never eat anywhere in Europe without consulting the appropriate Rick Steves book and checking out what he has to say, he has never let us down.
We decided to try De Vlaamsche Pot located at Helmstraat 3-5, Bruges, which serves hearty traditional Belgium/Flemish food. The restaurant was very cozy and charming and it is in a historic building. The waiter was very helpful and friendly.  The service was excellent.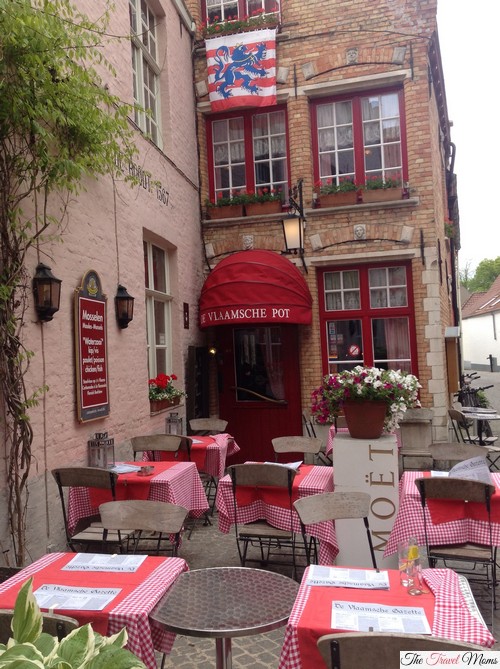 My husband and I decided to order one of the special meals that came with an appetizer, entree and dessert. The appetizer was a delicious pate, with a relish and salad. They served it all with a walnut bread which was delicious.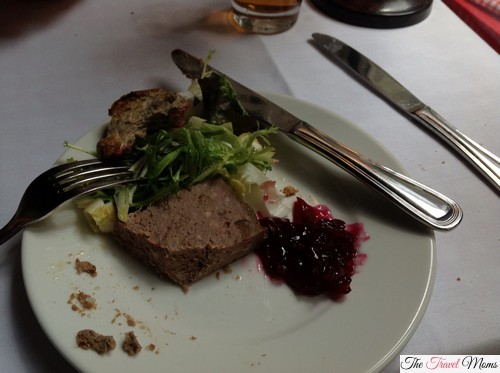 For our entree we decide on the Flemish Beef Stew and it was amazing, the flavors perfect, the beef incredibly tender. The portion was huge and it was served in an iron pot at our table. There was so much in the pot my husband and I could not finish it. The meal was accompanied by delicious apple sauce and fries. The fries were the best we tried while we were in Bruges. The best thing about the restaurant is not only are the fries great but there is a waiter hovering who watches and refills your fries as you eat them. Unlimited fries yum.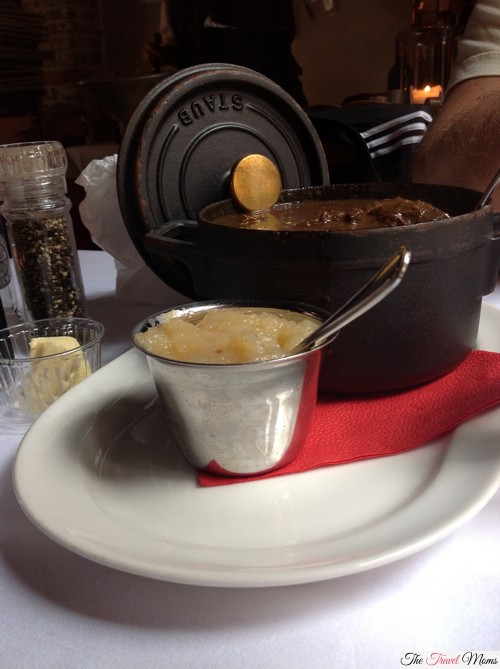 De Vlaamsche Pot is definitely worth a visit. A great place to experience traditional Flemish food.  To find out more about De Vlaamsche Pot visit the restaurant website, CLICK HERE ….
[CLICK ON THE IMAGES BELOW TO MAKE LARGER]