Restaurant Review: Scalini Fedeli "Best Italian in NYC"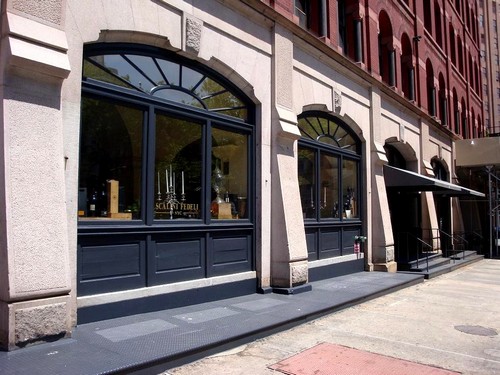 My Mom and I were on a mother/daughter 4 day vacation in New York City and we had heard many good things about Scalini Fedeli so we decided to have dinner there one night. We were staying at the Mercer Hotel and the restaurant was located at 165 Duane St. in Tribeca just a short taxi ride away.
We arrived a bit early for our reservation, but when they saw I was pregnant they seated us almost immediately.  The service was impeccable and our waiter hovered around me making sure I was feeling okay.  Because I was pregnant I was feeling a bit left out because I could not drink, so the waiter had them make me a special mocktail fruit drink.  The waiter was very knowledgeable and recommended the perfect wine to accompany my mother's meal.
We both decided to have the Prix Fixe menu, which had tons of choices.  The price for the prix fixe was $70 for three courses and well worth the money.
For our starter we both order Bibb Lettuce and Fiorelle Pears which was​ served with a white balsamic vinaigrette, prosciutto di parma, ricotta salata, and spanish almonds.  It was just yummy.  For our main course my mother chose the Pan Roasted Chicken Breast which had Italian sausage in a rosemary and garlic sauce served over broccoli di rapa and orrichiette pasta.  She loved it, the chicken was tender and mouth-watering.
I decided to have the Slow Roasted Duck Breast Crusted which had almonds in a port wine sauce over potato, rosemary and apple puree.  It was excellent and delicious.
After such an excellent meal it was hard to believe we had room for dessert, but we managed to squeeze it in.  All the desserts looked scrumptious, we finally both decided to have the Chocolate Painted Fillo Napoleon – with chocolate mousse, fresh cream and warm raspberries with vanilla ice cream – each bite was like a little taste of heaven.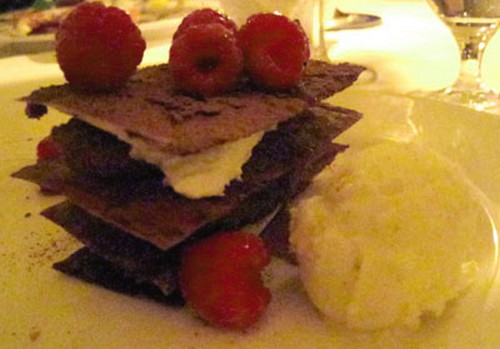 The food at Scalini Fedeli is simply amazing. I have tried other Italian restaurants in NYC (Like Babbo), but Scalini Fedeli was better overall.  The service complimented the amazing food we highly recommend it, you won't be disappointed.