Review: Seuss Landing at Universal Islands of Adventure in Orlando, Florida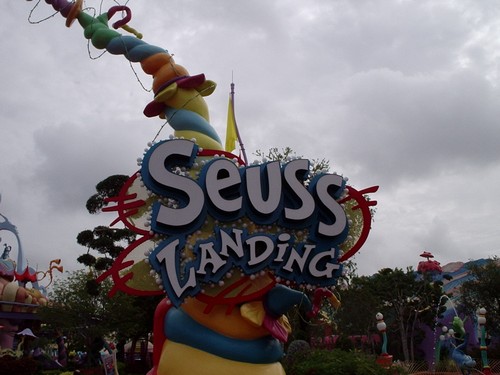 Would you like it here or there? Would you like it anywhere? Well, if you visit Universal Islands of Adventure in Orlando, Florida and head over to Seuss Landing you might just find that famous Cat In The Hat walking around. Ever since my children were young, their favorite books were anything by Dr. Seuss and with that, Seuss Landing has always been a favorite place to visit. When you walk through the main entrance, you can't help but smile when you see the Cat in the Hat ride, the One Fish, Two Fish, Red Fish, Blue Fish ride, the Caro-Seuss-el , the Ran the Zoo playground and the High in the Sky
Seuss Trolley Train Ride which is our family favorite. You will want to head to the trolly first, otherwise the wait times will be long.
The ride is slow, but the fact that you can get a "high in the sky" view of the whole park, makes up for the speed. The Cat in the Hat ride is fun, but there are a lot of fast spins that may not be appropriate if you have a weak stomach. Although, we rode the Cat in the Hat, like four times in a row with our two boys because they love it so much, from the books, to the cartoons, to the Mike Myers movie. The One Fish, Two Fish, Red Fish, Blue Fish ride is fun, it gives you a little cooling off with random water squirts and kind of reminds me of the Dumbo ride at Disney, but squirting water adds so much more
fun.
There are many cool restaurants and shops and they are all Seuss themed as well. There are four awesome places to grab a bite, the Green Eggs and Ham Cafe, Hop on Pop Ice Cream Shop, Circus McGurkus Cafe and Stoo-Pendous. We dropped by the Circus McGurkus Cafe and enjoyed some fried chicken that was rather good for theme park food. Last but not least, is our favourite, the Moose Juice Goose Juice – there is no better way to cool down than to enjoy some delicious frozen Moose Juice or Goose Juice.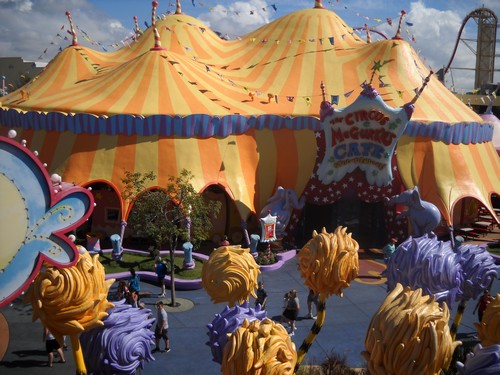 At the Dr. Seuss' All the Books You Can Read store, you can actually take a relaxing break to re-energize, choose a book and read it to your little ones. Snooker & Snookers Sweet Candy Cookers have the most awesome and yummy treats and "snookers" are over-sized cupcakes that are a definite must have before you leave the park.
Before you end your fabulous trip to Seuss Landing, don't forget to head on over to Mulberry Street Gizmos, Gadgets and get you and your family some "Thing" shirts. My Twins got "Thing 1 and Thing 2, the dog got Thing 3."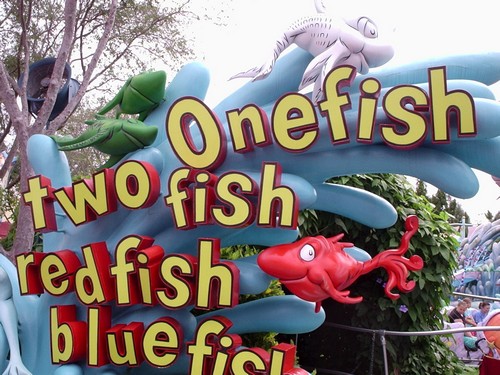 Now just to give you an idea of how much we enjoy Seuss Landing, we began going there when the boys were eight and last year, when they were seventeen, we enjoyed it just as much as the first time we went there.  For more information on Seuss Landing visit their website HERE!