7 Tips to Plan a Honeymoon Any Time of Year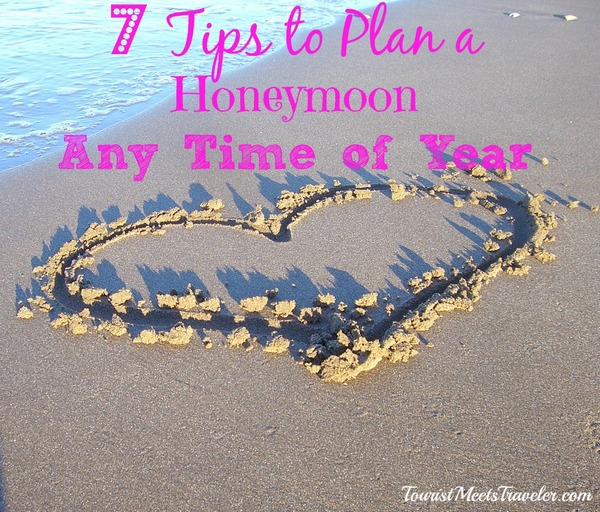 Weddings, typically, take months to plan. Every detail down the color of nail polish the bridesmaids will wear to the fabric used to accent centerpieces is meticulously planned. Honeymoons often get the backseat to the big day, but these tips will ensure that much needed post-nuptial vacation is as magical as the wedding day.
1. Timing – Wedding season ranges from May to early October. The peak travel period for most destinations, happens to be the same time. If you are on a budget, you will find discounted rates for both your wedding and the honeymoon in January, February, and March. For autumn honeymoon locations, look into Paris, Napa, Punta Mita – Mexico, Aruba and Chile. If you are going for a winter wedding, research St. Kitts, Turks and Caicos, Australia or Jamaica. Less crowds, more funds thanks to cheaper rates will be very refreshing.
2. Passports – Even if you are undecided on where you want to honeymoon or traveling somewhere you currently don't need a passport (those cruises can be tricky) – get your passports. Save yourself the time, hassle, stress and future headaches.
3. Splurge – Go for first class on long, international flights. Skip it on domestic flights and splurge on a room upgrade instead.
4. Don't Plan Activities Every Day – One of the ultimate vacation-crushers is over-planning. It's understandable to want to soak up every minute of fun opportunities, but the goal of a honeymoon is to relax after the 12 month marathon of flowers, cakes, dresses, in-laws, seating charts and dinner napkins.
5. Honeymoon Upgrades – There is some debate as to when to mention you are planning your honeymoon. Some will insist mentioning it ASAP when you are booking. However, be advised that this sometimes translates to: I want to spend lots of money because it's my special day and I don't want to be cheap. To play it safe, book through a travel agent for the best deals and then smile and mention it's your honeymoon while you are checking in. You are more likely to get a room upgrade mentioning this fact the day or your honeymoon versus when you booked months in advance. Hotels like to save those big, luxurious suites for VIP customers and guests willing to pay for them. So, Tourist Meets Traveler's advice – keep the detail to yourself until you get the room rate for the average Joe. Then say something along the lines of…"We are Hotel ABC loyalty members, so when we planned this honeymoon we knew we had to stay at Hotel ABC." Or, if you booked through an agent…"Our travel agent highly recommended Hotel ABC for our honeymoon. Are there any discounts or upgrades available to make our stay even more memorable?"
6. Don't Book Under Married Names – Book hotels, cars, airline tickets and anything else, under your legal names. Unless you have planned enough time between your wedding and honeymoon to allow yourself or your bride to schlep down to the proper offices to get a new social security card, a new I.D. or change your passport, don't book under your married names. Research and call government or state agencies for more finite information, but give yourself at least a 3 month window to get a passport name changed.
7. Set Up Must-Haves in Advance – If you must-have a hotel room with its own bathroom, make sure your agent is aware and then call and double check yourself. AC is must in those tropical international destinations, but not all places have them. European hotels are often different from what American's believe to be a world-wide standard. Call yourself and ask for any amenities that you must have.