Airline Seating: Flying With Kids or Special Needs Adults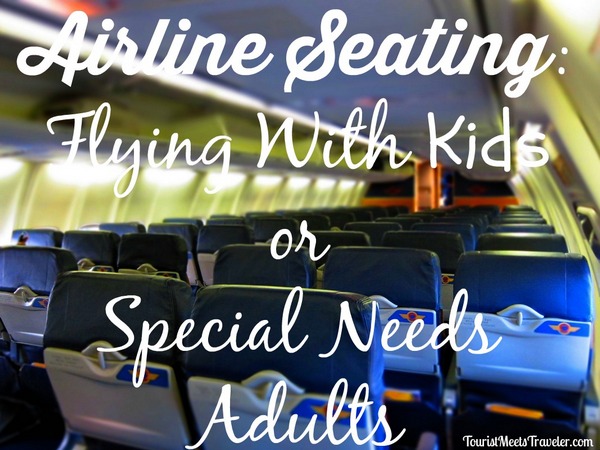 Kids seem to fall into three categories when it comes to flying: excited little balls of curiosity who can't sit still or terrified drama queens who morph into squealing ninjas able to turn the back of someone's seat into kickboxing bag. Then, there are the veteran flyers who order the kosher meal, kick back with their video game and wait to take a nap until after the drink cart has passed by.
Regardless of how many miles your kid has spent in the air, you don't want them sitting next to a complete stranger while you are four rows back in the middle seat. Airlines have changed over the years and charge for bags, packets of peanuts and where you sit on the plane. Even if you book your tickets together, you might find you aren't sitting together. Unless you pay extra fees or book upgraded seats, you might be bargaining with other passengers to trade seats just so you can sit with your kid.
It can be a crummy practice, but most airlines tend to show more upgraded or "preferred" seats than regular economy seats, despite an empty plane. It pushes you to spend extra on seat assignments or nabbing that coveted aisle seat. If you book close to your travel date, you might only be shown pricier seats even if you have kids or someone with special needs.
To help avoid airline seating drama, try using these tips when flying with kids or special needs adults…
Call ahead as far in advance as possible. Find a flight online and don't forget to employ the Travel Shopping Online Tips: Avoid This Mistake to Get What You Want and Never Overpay. Explain your situation and see if you can get standard seating prices together mentioning the bargain price you found online.
Don't forget to enter your child's age when booking online. If you don't want to call, make sure you enter your child's correct age when booking. Some major airlines automatically assign children aged 12 and under with an accompanying adult.
Arrive for your flight early and speak with the check-in agent before you print off your tickets at any kiosks. Once your seats are chosen, it's hard to change them.
Look into an airline's policies and factor that into seat prices. For example, Southwest offers priority boarding to parents with kids 4 years old and younger along with people who have special needs. British Airways allows parents traveling with an infant (child under 2 years old) to reserve seats for free. They will allocate your seats five days before departure and, if the group can't be seated together, all children in your booking will be seated with one accompanying adult.
When everything else fails, you try and offer your own incentives for passengers to trade you seats. Pack a gift card to large chain places like Starbucks or a pre-paid Visa to thank someone for switching.
 Pay up. It seems unfair, but consider being a solo passenger who paid extra for an aisle seat, but felt forced to trade their upgraded seat so a family could sit together. Paying the fee will be one of the few ways to completely ensure you sit with your charge.
Something you else you should consider is TSA. Your average adult can find the screening process intrusive, so prepare kids and those with special needs. Take advantage of the TSA's Passenger Support Specialist ahead of time by calling the TSA Cares hotline at 1-855-787-2227.