Chicago Vacation With Children: 5 Best Cultural Festivals for Kids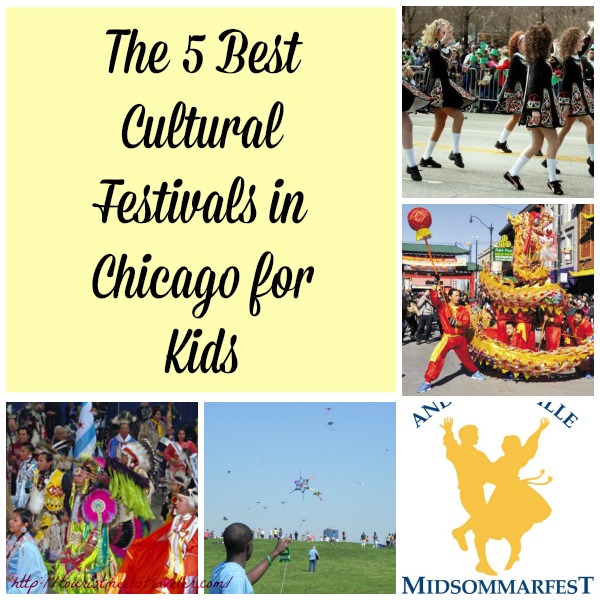 Chicago is a city built around it's neighborhoods, neighborhoods that have strong ties to a single cultural community and embrace it. Each community is also very proud of the culture and places where they came from in settling Chicago, so the entire calendar year is filled with festivals celebrating cultures from around the world. So many Chicago cultural festivals are great outings for children, teaching them about the people, food, dances, and traditions that Chicagoland immigrants brought with them.
If you are looking for some kid friendly cultural festivals in Chicago, make sure to try any one of these for a great day, or weekend, out.
Chinatown Lunar New Year Parade and Celebration
This is one of the few festivals and cultural events held in the winter in Chicago, and it doesn't matter how cold it is, the parade and festival events go off without a hitch. Chicago's Chinatown is located on the Southwest side of the city, tucked into a triangular wedge of streets and buildings. The Lunar Parade is the highlight of this event, but there are shows, plays, races and dining deals all through the area. If the kids have never been to Chinatown, make sure to take them browsing around both the iconic old neighborhood and new Chinatown.
Andersonville Sommarfest
Head all the way up to the north side of Chicago, where you will take a step back into Old Europe in Andersonville's Swedish community. This neighborhood actually feels like a quaint little neighborhood in the country when you are among the main streets and shopping district. Every summer, Swedish communities celebrate summer, and Andersonville throws their own festival too. Take part in maypole dancing, geared towards children, folk dancing provided by local bands. If you have the entire weekend free, take a day to check out the individual shops, all of which are Swedish themed and include a Swedish bookstore for children, a Swedish museum geared towards children, a Swedish bakery and pancake house and a Swedish home decor and gifts store that puts Ikea to shame.
Annual American Indian Center of Chicago Powwow
Chicago and the Midwest is home to tribe members from all over the country and every year the American Indian Center of Chicago puts on a Powwow. For several years the event has taken place around Chicago, mostly in one of the halls at Navy Pier, but because of the huge numbers of tribe members and attendees, it has moved outdoors to the Busse Woods of Elk Grove Village. Everyone is invited and it is a great way for children to learn about the Native American culture, get to see hundreds of dancers performing and competing and enjoy some traditional Native American food.
Chicago Kids and Kites Festival
Kites might not seem cultural, but they actually are. Kites have played an important role in so many cultures around the world, where people get together to celebrate spring and fly hundreds of kits together– even competing for the best kite flyer. To introduce kite flying to children, the Department of Cultural Affairs and Special Events hosts a huge kite festival where children and encouraged to bring their kites to fly, or can receive a free kit to create a kite that they can fly.
Irish Fest
The Irish Fest, hosted by the Irish American Heritage Center of Chicago is held every year, midsummer. Featuring the best small town, local, and big name Irish bands, musicians and dance troupes, the Festival is a great place to bring the whole family. Children are encouraged to learn about Irish culture, join in on the dancing and learn more about what it means to be Irish. There are over 100 bookings on several stages, so you don't need to worry about which day, afternoon or evening has the best show or activities for children, just go when you can!