Eating in Las Vegas: Top 4 Buffet Restaurants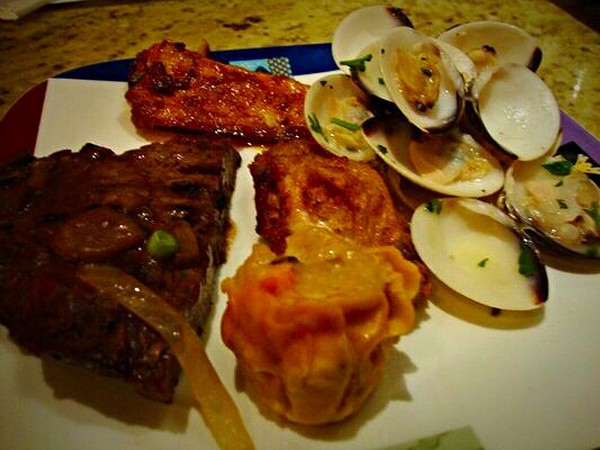 When most people think of Las Vegas, they think of the shows, clubs, and luxurious hotels and casinos that illuminate the strip of Sin City. I, however, think of the buffets. Don't get me wrong—I enjoy my share of black jack (when I win, that is) and those nocturnal nights filled with lights, music, and bottle service. But my cup of tea is a tad more gluttonous. Las Vegas offers an extensive list of buffets that caters to everyone from those who just lost their retirement fund in a poker tournament, to those highly pretentious folks with money to spare. In few words, you will never go hungry here.
I've eaten at many many buffets in Vegas. I've waited in line to some for up to two hours and stayed at others for even longer. I once bought a one-day buffet pass where I did a buffet crawl and ate myself silly for 12 hours. So after having been there and done that, here are five buffets that I would rate as the best of the best.
1. Bacchanal at Caesar's Palace—Bacchanal is relatively new compared to other Vegas buffets. It's a modern, upscale buffet with an impeccable spread. Some highlights include: the crab legs that are steamed right in front of you upon request; the small buckets of clams and mussels in a light broth; the scalloped potatoes with truffle oil; and the freshly prepared bottles of exotic juices. The line at Bacchanal during my visit was insanely long; however, I've heard through the grapevines that you can skip the line for $15-20. Well worth it if you ask me.
2. Carnival World Buffet at Rio—Carnival World Buffet is one of the biggest buffets in the world. Standing at one end of the buffet, the food selection stretches as far as the eyes can see. Prime rib, which is a staple in nearly all Vegas buffets, is done perfectly here. It's so tender; you don't even need a knife! The high point for Carnival is its variety; almost every world region's cuisine is covered here. Also, remember that buffet crawl I mentioned above? Well, the Rio's buffet is part of it. In addition to Carnival World Buffet, the Buffet of Buffets pass allows you to dine at the buffet at Harrahs, Flamingo, Paris, and Planet Hollywood within a 24 hour period. For an upgrade fee, you can add Bacchanal to that list as well.
3. The Buffet at Wynn—The most beautifully decorated of the buffets, The Buffet at Wynn prepares high quality food for a wide range of palettes. Although smaller in size, you can taste why this buffet has been rated so highly time and time again. During my visit, I had a very memorable seafood pot pie and never strayed too far from the massive dessert area. The crepe station was dishing out piping hot and freshly made crepes to each guest's desires. It's not cheap, but it's worth it.
4. Wicked Spoon at the Cosmopolitan—Another newby to the Vegas buffet scene, Wicked Spoon is no amateur in the gourmet food department. As part of the Cosmopolitan Hotel, there is no surprise that this buffet would have a sleek and modern ambience. As for the food, most people come back for the heart-stopping bone marrow and the impressive gelato spread. For bottomless mimosas, come for the brunch.
Being four of the most popular buffets in Vegas means crowds line up to get their fill. On the weekends and during the summertime, the lines can be hours long. If your hunger's getting to you, try to ask the front desk if there's any way to skip the line. For example, those part of the player's club often get VIP treatment and some buffets will allow you to cut through for a fee.
Once you get into the buffet, here are a few tips. First, skip the carbs. Breads, pastas, noodles, etc. skip them all unless they are just incredible. Second, focus on the foods you love but are typically too expensive for you to eat on a regular basis. Items like prime rib and seafood are good routes to go because they would normally burn a hole in your pocket. Me? I go for the clams and mussels. I love shellfish and can eat buckets of it if you let me! Whatever your approach is, just be sure you don't leave Vegas without having a smorgasbord experience of your own.