Olympic Russian Hotel Horror Stories
The 2014 Winter Olympics in Sochi, Russia are mere hours away. Athletes, media and lucky travelers are flooding into their hotels and, it has been an experience most of them will never forget.
After President Vladimir Putin spent more than $50 billion on the games, it appears that the unforgettable experience will be one you don't want to remember. Hotel horror stories are rolling in on Twitter, blogs and news reports everywhere.
Only 6 of the 9 media hotels have been completed. Those in those unfinished lodgings have been left scrambling for temporary accommodations as Russia scrambles to be ready for the games on February 7th 2014. Which, at the time of writing this, is just 21 hours, 26 minutes and 32 seconds away for Russia. Never a good sign when you see workers still laying bricks.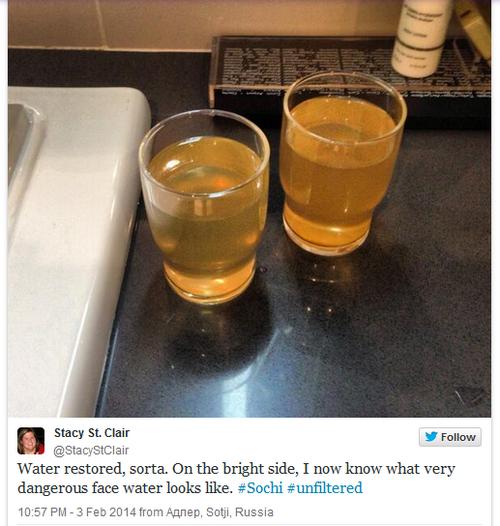 Chicago Tribune reporter Stacy St. Clair shared an image of a water issue plaguing the area. When she arrived at her unfinished hotel, she had to make arrangements elsewhere. When she arrived at her new digs, the water wasn't working and was told this when she inquired at the front desk…
"It will be fixed in 40 minutes. But when it comes back on, please do not use on your face because it contains something very dangerous."
This launched a Tweet with an image of the "dangerous face water" that has been retweeted thousands of times. While America is used to "excess" when it comes to our creature comforts, reports that most hotels are missing things like shower curtains, light bulbs pillows and hot water continually surface. One reporter offered to trade 3 light bulbs for a working door handle. Other tourists are glad to have something as simple as a functioning door and working toilet.
Alas, the games are facing many other issues…
Putin is trying to flex his power by attempting to out-do anything he can. The Olympic Flame was on a record setting journey, but has gone out 44 times and counting. It has been re-lit by random people with cigarette lighters.
Dogs are running around everywhere according to tourists. Russia has been trying to deal with issue, but one wonders what is happening to man's best friend when the guy running the company hired for the job calls the dogs "biological trash" on ABC. A Yahoo reported stumbled upon several dog's heads on the retail boardwalk area of Sochi's mountain complex. They were quickly removed after the reporter questioned nearby workers.
The WorldWatch Institute and the World Wildlife Fund has voiced concerns about "illegal waste dumping, contaminated drinking water, dangerous construction on unsound ground, light pollution, greenhouse gas emissions and disruption to native animal populations and habitats."
A snowboarding course is being altered after several athletes have been injured. A top Norwegian snowboarder, Totstein Horgmo, broke his collarbone on the course and will no longer be competing thanks to the extremity of the course. Shaun White also just announced that he has pulled out event stating "the potential risk of injury" was serious concern.
Let's all hope these issues are sorted out…soon.