Traveling with Kids: What to Pack to Keep Kid's Busy On A Road Trip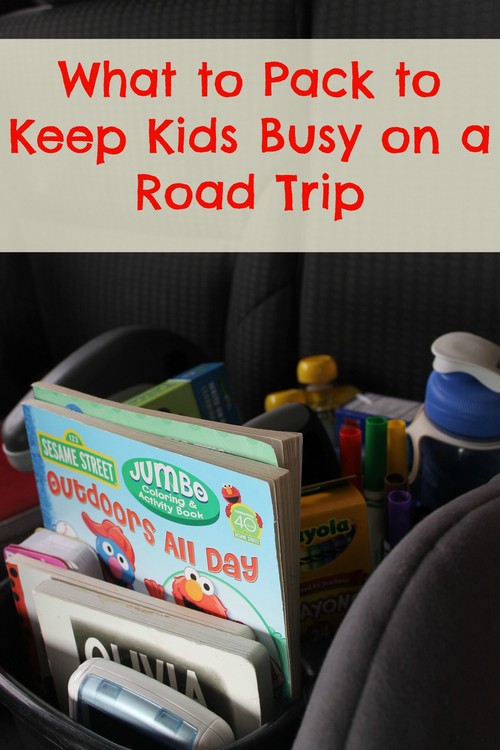 Traveling with kids can be part stress filled and part adventure filled, to keep it more adventure and fun there are a few things you can do. I have comprised a list of my favorite things to take along. I picked up a handled tote that I think is for cleaning supplies to hold all their gear.
It rests perfectly in the backseat in the middle and holds quite a bit, I think it might have cost $6.00 or $7.00. What do you pack for the kids when you travel? Share your ideas with us.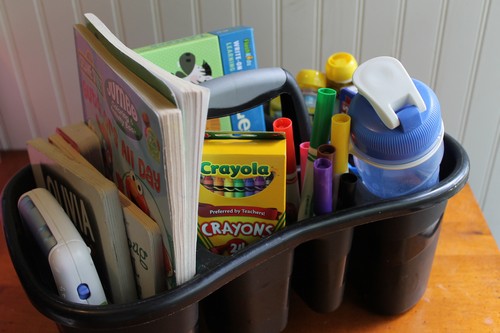 Snacks– Single serve non perishable snacks like; granola bars, squeezable yogurt, fruit snacks, cookies, crackers, include juice boxes or sippy cups (just keep an eye out for rest stops, fast food, and gas stations for those little bladders.) Packing healthy, easy serve snacks can cut out the need for frequent food snacks, and keep you out of fast food restaurants.
Books– Board books that wipe clean are a great choice and can also be brought into restaurants to keep the kids entertained while waiting for your food. Interactive, dry erase books are also a great choice for the same reasons. This is a fabulous dry erase book for older kids, ideal for travel.

If you have multiple children find books with games like tic tac toe inside so they can amuse one another. We also love these Brain Quest card's for a fun game.
Coloring Book and Crayons– Pack an old favorite or a new one for a surprise,a blank pad of paper, a fresh pack of crayons and maybe some markers. Coloring can be soothing and distracting for agitated children.
Magnetic Toys– My favorite is simply a cheap metal cookie sheet and alphabet letters from Dollar Tree, you can call out words you see like; car, tree, stop,etc.. and have them spell, or let them free play.
We also have a magnetic paper dolls. There is less twisting and stretching to pick up dropped pieces with magnetic toys too.
Electronics– Leap Frog makes a lot of different devices, as well as- Ipod, Nintendo DS, whatever they have on hand to keep them busy, pack extra batteries, and headphones too.
DVD Player/DVD's– The big debate about letting TV babysit your kids? Set it aside. Trust me, especially on a long road trip you will welcome this mind numbing distraction. Pack enough DVD's to keep them busy for the trip there and back, make sure to pack headphones for each child if you don't want to listen to The Little Mermaid for the 987th time.
As you can see I can fit the majority of what I listed inside this carrier and it takes up less room than a person- and its cheaper than a travel nanny!