Tips for Meeting 'Frozen' Princesses Elsa and Anna at Disney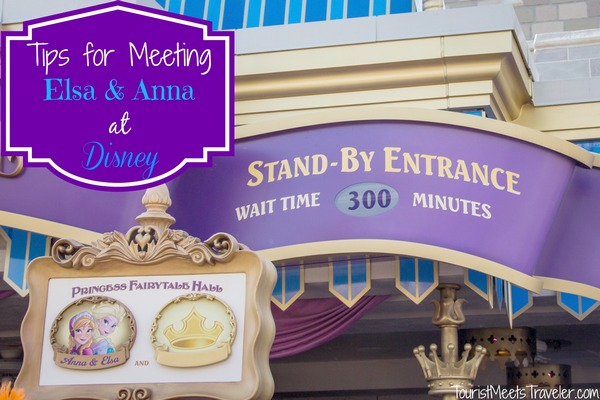 Do you want to build a snowman? It doesn't have to be a snowman.
If you have children who adore the film 'Frozen,' you have probably had the tune embedded into your head for months. The Disney flick has brought in more than a billion dollars. A billion. To say the new additions to the princess family is popular – is a gross understatement.
Elsa and Anna have been moved from Epcot to Disney World character encounters. The wait to meet the Norwegian sisters has climbed over 5 hours for standby. On average, the minimum wait time is 3 hours. That can blast almost your entire day at the Magic Kingdom…just waiting in line.
The parks are trying to contend with the demand. Additional hours have been added and the experience has been added to the FastPass+ system. The system reserves a time frame for your visit, but don't plan on walking right in. Often, this pass just gets you into a shorter line.
Tip 1 – Disney resort guests can book a time 60 days in advance, but guests staying outside the park only get a 30 day jump. Reservations at the Princesses Fairytale Hall can be difficult to nab. The clock starts ticking a midnight eastern standard time from that 60 or 30 day marker.
Tip 2 – The new system only allows you to have set number of FastPasses. If you have a choice between getting a pass for the Seven Dwarfs Mine Train and the Princesses…pick Elsa and Anna. Wait times for the newest Disney World ride are hovering in the hour to an hour-and-a-half wait times.
Tip 3 – If it is a non-Extra Magic Hours day, book and advance dining reservation for breakfast at Cinderella's Castle or the Crystal Palace to ensure you are waiting by the hall doors no later than 8:40 a.m. Hotel guests and restaurant guests are currently being held together, so this might give you a slight edge. You can book dining 180 days in advance so this might be a nice cushion in case you can't nab a FastPass.
Tip 4 – If you are visiting during a day that has the Extra Magic Hours and you are a resort guest, the sisters will starting greeting at 8 a.m. This will give you a bit of an advantage.
Tip 5 – Everyone bolts for Fairytale Hall first thing in the morning. If you are willing to gamble, wait to hit the area until the afternoon. Find out what time the princesses will be retiring for the day and plan to return no less than 3 hours later.
Tip 6 – In another effort at cutting the wait times down, the sisters have been split up. Each takes a separate side of the room and two separate lines are formed. It cuts the wait times down significantly, but if both princesses are a must-meet, it could mean waiting in two lines. No official word on whether or not this will be a permanent change, but be prepared.
Tip 7 – If at first you don't succeed getting Fastpass or reservation try, try again. Sometimes people change their minds and cancel. Check back whenever you have a few moment. You might be surprised to find a slot has opened up.
If your kids can be satisfied by just waving adoringly from afar, Elsa and Anna have been added to the Disney World Opening Show now starting at 8:40 a.m. (Double check hours before you arrange solid plans as times are always subject to change.)
Also, a few weeks ago, Disney's Hollywood Studios announced they would be adding a 'Frozen' frenzy with daily character procession, sing-alongs and a nightly party. July 5 through Sept. 1, each day at 11 a.m., Anna, Elsa and Kristoff will parade down Hollywood Boulevard. You and your family can wave at the trio as they pass by in a horse-drawn carriage. If you miss out on getting a peek at the princesses, you can spot them again at the Premiere Theater for sing-alongs and storytelling.