Tourist Traps You Must Experience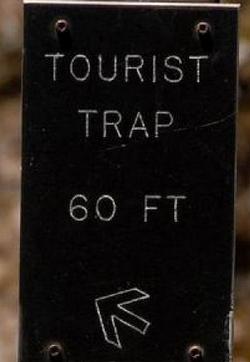 My family has an uncanny adoration for those junky shops that sell things like alligator heads for a dollar or sunglasses that come in a 5-pack.
They also have a special place in their heart for roadside attractions like The World's Biggest Ball of Yarn or, I'm not kidding, a "circus" that was in the parking lot of a truck stop. Tourist Traps. They love 'em.
However, there are some traps that pose as must-see experiences, but, in their own way – are. They often leave you wondering if you get a refund on your money and the 4 hours you wasted.
We've all been there, but here are (arguably) the top five Tourist Traps You Must Experience.
*Times Square*
Ah, the Big Apple. It is rich with culture and boroughs that cater to many desires and adventures. It is true, I love New York. BUT, Time Square is trap that everyone must endure. It's like the city's baptism. You are enveloped by advertising and dipped in chain retail and food options. Do you really want to endure the massive crowds that locals tend to avoid it whenever they can? Yes, give yourself the chance to strut down the street, but don't give into the deluge of ads seducing you. Don't plan to eat or buy anything there even if you suddenly feel you need a miniature New York license plate with your name scrawled on it.
*The Great Wall of China*
The idea of the Great Wall sounds, well, great! Then you arrive and it's just a great…big…wall. It might seem like a waste as you step foot on the 5,000-mile creation built centuries ago, but remember it was built in time where the heavy lifting was done by manual labor and a bit of ingenuity. This testament to human ability can be seen from space!
Instead of hitting the crowded entry in Badaling, head to Mutianyu. It's better preserved and less tourist-y. Also, if you have someone carry you up the stairs – be ready for a lifetime of deserved ridicule.
*Acropolis in Athens*
Don't skip the Parthenon temple and Erectheion or the tomb of the mythical Athenian king, Erectheus. It's hot and often crowded, but the feeling of history and beauty is astounding. Hit it as early in the morning as you can. The sunrise over the pillars is gorgeous beyond just about any modern architectural creation. The glass floor built over an excavation area dating back to 500 B.C. is another experience that you can enjoy if you just remind yourself of where you are standing.
*The Pyramids of Egypt*
If you are in the neighborhood, don't pass up the opportunity to visit The Great Pyramid. Things are tense in the region right now and, we like to encourage safety first, so put this one on your to-do list for now. Just don't cross off the adventure completely. If you do make plans to visit, aim for March to May or September to November when the crowds and heat subside a bit.
*Eiffel Tower*
It may be a travel-sin to call the Eiffel Tower a tourist trap, but well, it can be. It actually started out as a protested project, but became a monument. It's an icon in the skyline and an experience that you won't forget. To get the most out of your visit, skip the elevator on the ground level and hike up to the second floor. It will save time and money.