Travel Tips For Disneyland, California – Make The Most of Your Day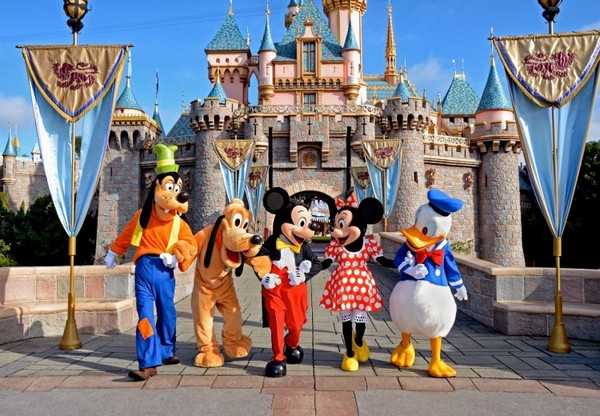 Disneyland is a place of wonder, fun, and mystique. A place to meet the heroes of fairytales, stroll through enchanted pathways, and plunge down thrilling rollercoasters. With so much to see and do, planning a trip to this popular destination can feel like quite a daunting task. Luckily, the itinerary below provides you with a conveniently organized list of activities for a perfectly planned day at the magical kingdom.
Get an early start at Storytellers Café in Disney's Grand Californian Hotel for breakfast. Storytellers Café gives you an invigorating dining experience filled with Disney character appearances within a California folklore theme. Enjoy items from the a la carte menu or chow down on an all-you-can-eat breakfast feast that includes freshly made omelets, Mickey Mouse waffles, pastries, and more. Kids buffet prices start at $11.99 and adults start at $30. Storytellers Café is just a short walk from the park and can be accessed through California Adventure or Downtown Disney. Advance reservations for the Disney characters breakfast is a must.
Once you're full and fueled to take on all that Disneyland has to offer, it's time to start your adventure. Upon entering the park, grab a map to help guide you through the day and stop by the main hub near the castle. Here you will find an attendant with real time information about the wait times for all the main attractions. This ride board will be an invaluable resource during your time at the park.
Moving on, consider obtaining a FASTPASS for one of your favorite rides or attractions. For those who are unfamiliar with the FASTPASS, it is a ticket that allows you to hold your place in line while you explore the park. You can then return to the ride within the indicated time frame and breeze through the line. Some of the most popular rides that offer FASTPASS tickets include Star Tours, Space Mountain, and Splash Mountain, which can have wait times up to two hours or more. Get a FASTPASS for these attractions as early in the day as possible. Other attractions that offer FASTPASS tickets include Autopia, Big Thunder Mountain Railroad, Indiana Jones Adventure, and Roger Rabbit's Car Toon Spin. FASTPASS tickets are free with all admissions and you can obtain a second FASTPASS as soon as the time on your current ticket has been reached.
While there are some attractions in which a FASTPASS is crucial, there are others that typically have very limited wait times. This is the time to visit those attractions. The Haunted Mansion, Jungle Cruise, Big Thunder Mountain, It's a Small World, and Pirates of the Caribbean are all rides that typically have a wait time of under 15 minutes.
Getting hungry? It's time to refuel with a nice lunch. There are plenty of great eateries around the park, just be sure to stop by before the 12 pm rush. For a cheap lunch, grab a corn dog from the famous Little Red Wagon at the end of Main Street. Another great foodie find on Main Street is Carnation Café which boasts a delectable loaded baked potato soup among other selections. Or head to Café Orleans for a heart-stopping Monte Cristo sandwich or savory seafood crepe and pommes frites.
The remainder of your day at Disneyland can be spent hitting attractions with unavoidably longer lines. Such attractions include the Matterhorn, Buzz Lightyear, Snow White, Mr. Toad, Pinocchio, and the Tiki Room. Others with long lines that typically move quickly include Tea Cups, Dumbo, and Winnie the Pooh. Don't forget to squeeze in some character meet-and-greets as well as a visit to Fantasyland and Toontown.
For dinner, venture out of the park for excellent eats at more affordable prices. Just across the street is The Pizza Press. A small pizzeria where you can personalize your own gourmet pizza creation for under $10. A few steps away from the park entrance is Downtown Disney where you can find Earl of Sandwich. Earl of Sandwich serves up delicious hot sandwiches, fresh wraps, as well as salads, soups, and baked goods; each for just a few bucks. If you feel like a splurge, head back to the Grand Californian Hotel for a fine dining experience at Napa Rose. Offerings such as ahi tuna nachos and pan roasted diver scallops along with some incredible wine pairings are nothing short of perfection.
A day at the place where dreams come true is never complete without some fireworks. The fireworks schedule varies throughout the year but typically starts around 9:30 pm. For the best view, return to the park and station yourself near a light post on Main Street. If you're dining nearby, you will likely still be able to have a good look at the flying sparks lighting up the sky above you. Take a deep breath and relax, you've just experienced a memorable day at the happiest place on Earth.