Snoopy's Cookie Jar by Teleflora: Send This Stunning Gift For Long-Lasting Memories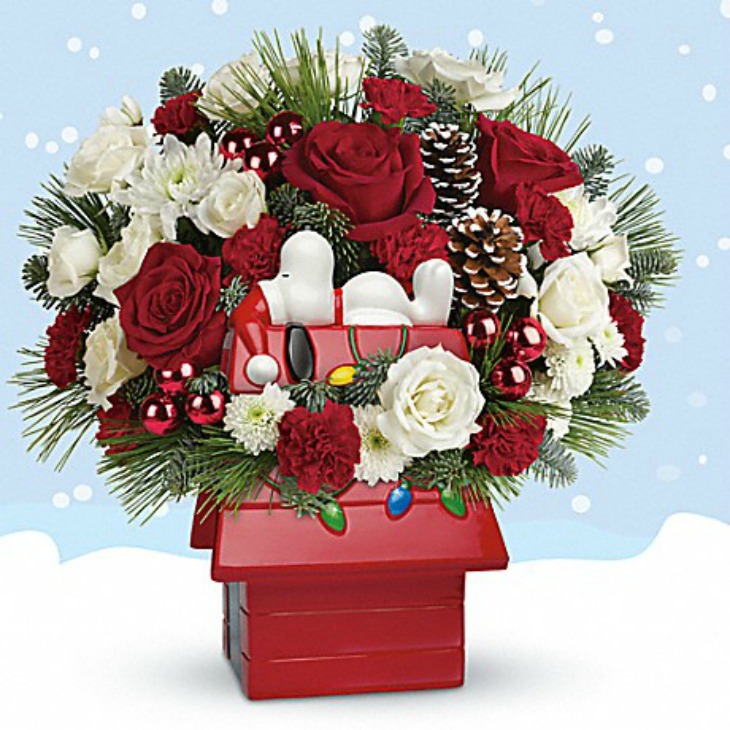 Around the holidays we all get some pretty random gifts from friends and family. Some of them we fall in love with instantly, and some of them collect dust in the back of our closets. This year one of the items I received around the holidays was the Snoopy's Cookie Jar by Telaflora. As you know by now, we are huge Peanuts fans over here, and have been celebrating Charlie Brown and the gang's 50th anniversary all year long – so I was thrilled when I received this adorable arrangement.
Telafora Snoopy Cookie Jar – An Iconic Gift
In honor of Peanut's anniversary this year, the pros at Telaflora put together beautiful holiday arrangements. I received the Snoopy Cookie Jar, however they also have an adorable Peanuts Coffee Mug. Telaflora manages to put together some of the most creative floral arrangements I have ever saw – and the Snoopy Cookie Jar is no exception!
The cookie jar itself consists of the iconic red doghouse that the beloved Peanuts beagle used to take naps on top of. Of course, this one also includes Snoopy lying on the roof. The jar is hand-painted and hand-glazed, and sure to withstand the test of time and many Christmases to come. When you remove the lid, it is the perfect place to stash some holiday cookies or sweet treats. And, even if you don't fill it with cookies – it still makes for an adorable Christmas decoration or holiday centerpiece.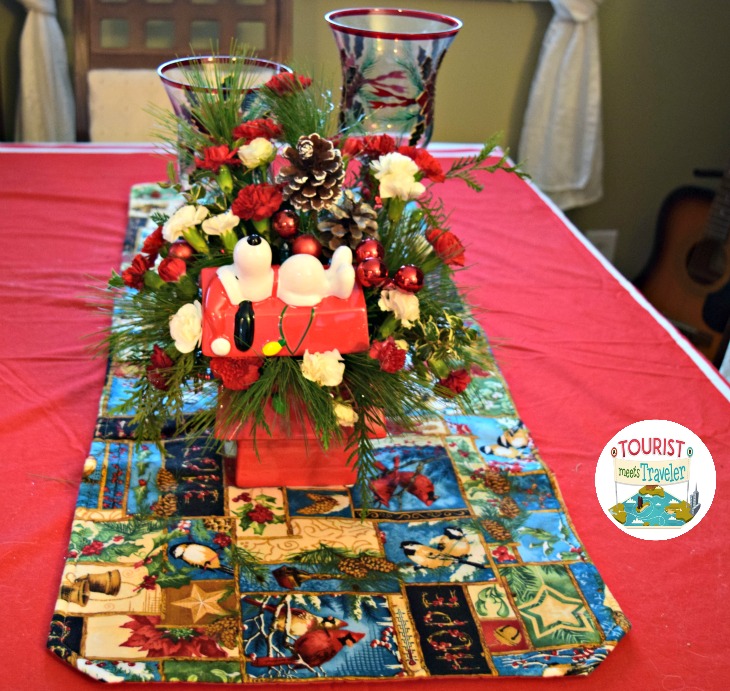 Of course, it's not just any cookie jar – it's from Telaflora, so it was also garnished with beautiful flowers. The decorative bouquet on the cookie jar included some of my favorite flowers for the holiday season, red miniature carnations, white button spray chrysanthemums, white cushion spray chrysanthemums, noble fir, and white pine. Telaflora managed to mix and match the perfect flower combination to create the "Christmas smell." The other day I walked past the bouquet and could have sworn that it smelled like a Christmas tree!
Christmas Decor and Memory for Years to Come
Sadly, the flowers aren't going to live forever. However, I plan on using the Snoopy Cookie Jar for many more Christmases. I placed it on the center of our dining room table and it has become quite the conversation piece whenever we have visitors. Everyone stops to admire the flowers and sniff them – and then they always ask where they can get one for themselves! It is becoming a little tough to keep it full of treats though. The Snoopy Cookie Jar is definitely a hit in my house this year.
If you are struggling trying to find the perfect gift for someone on your holiday shopping list – then you should definitely head over to Telaflora's website and check out their Peanuts collection. The Peanuts Coffee Mug is JUST as cute as the Snoopy Cookie Jar. Either item would be the perfect present for a Peanuts fan, or anyone who enjoys the Peanuts comics. And, it doesn't have to be the exact arrangement that I received. Part of the fun about ordering from Telaflora is that you can add on extras to your order like boxes of chocolates, mylar balloons, and stuffed animals!