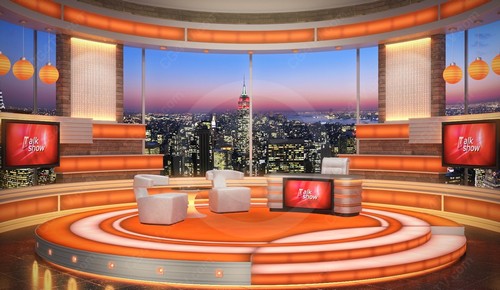 The ladies from Tourist Meets Traveler headed to NYC for 5 days of shopping and fun and over the next couple of weeks we will be writing several posts on all the things we saw and did during this holiday period.
We were five women without our men ready to enjoy all that NYC has to offer during the holidays.  For one of the events of our vacation one of the ladies, Amy, decided to try to get tickets to her favorite talk show so she applied a few weeks before we travelled.  Amy was beyond excited when she received an e-mail telling her that she had five tickets for the show.  The rest of the group was less enthusiastic since we are not particularly fans of the show but we wanted to be good sports and so agreed to go.
After Amy got the e-mail confirming she was getting the tickets, the show followed up telling her that we needed to be prepared for the honor of attending this "special event." We were informed to "DRESS TO IMPRESS! Bright colors photograph best & we ask that you refrain from weari
ng all white. This show is a special event. Think Trendy….Think Classy…Think Chic! Absolutely NO athletic attire, sneakers, oversized jeans, hats, sunglasses, shorts, t-shirts with logos, busy patterns or casual tank tops will be permitted. Men should wear nice pants with a button-down shirt, sweater, or blazer."   
There went my plan to wear a t-shirt with, "Tourist Meets Traveler" in huge lettering across the front

We all took the clothes description to mean that since we were so close to Christmas it had to be a Christmas special and everyone made an effort to dress in special holiday clothes.  We were wrong, it was not a Christmas show, just a regular taping – the advisory was simply to ensure that the audience didn't come looking like total slobs….
The e-mail told us that we had to be at the taping for 8:30AM.  So on Friday morning we got up early and made sure to arrive at the studio at 8:30AM promptly for the taping.  This meant skipping breakfast and even a hot drink since we assumed that with such an early call the show would provide at least minimal refreshments for the volunteer audience… we were WRONG!
When we arrived at the studios each of us was given a ticket for the show and we were told to head over to the end of a rather long line.  While waiting in the first line we were warned – "NO Weapons, licensed firearms, mace, luggage, large bags, cameras and recording equipment. Cell phones were not permitted for use in the studio. No gifts, letters or packages will be accepted."  Huh! We were expecting to get gifts – not give them. As we waited in the line for about 1/2 hour an audience staffer from the show wrote a letter or symbol on back of each ticket.  We thought it was a row number, we later found out it was not.
After the line wait we were herded down the hall and into another room where we had to wait again for an elevator.  The taping was on the second floor of the building and they only had one elevator.  In groups of 15 we were ushered into the elevator and taken into a makeshift room with chairs, dirty floors, chairs and pink curtains and were told to sit down and wait.  None of us had ever been to a talk show taping so we assumed/hoped that since this was the final waiting room there would be tea, coffee, water and/or food.  We were wrong.  We waited in the room for over 1 hour and finally another staffer came in and told us they would be calling people into the studio by what had earlier been written on the back of the tickets.
They started with the star symbol (not us), then the VIPs (not us) and then the Os which were US… maybe they were zeros?  We were led into the studio and a bit of our enthusiasm had waned after waiting so long without breakfast but we were still super excited.  As I mentioned before there were 5 of us: myself, Danielle, Anna, Adele and Amy.  We came to the right hand side of the studio and Danielle and I were asked to sit in the front row and then they asked the rest of our group to go and sit towards the top which is the rear.  Poor Amy was disappointed because she was the huge fan of the show and was stuck sitting far away from the stage at the top.
After we sat down we met the warm-up comic – he explained when and how we should clap.  We were told when the show host came in we should stand up and clap when the stage manager counted down to five.  So all that clapping you hear during that talk show is not natural – it is all planned.  We were also told we would be taping approx. 5 segments that day.  The warm-up comic warned us absolutely NO photos at all were permitted. The warm-up comic proceeded to warm us up with hilarious jokes – just kidding! This dude couldn't make a person on laughing gas crack a smile.
After all the instructions we were told the host was about to come on set and the taping was about to begin.  As the set manager counted down we all stood up and clapped and the host came in.  The host walked onto the stage and stopped in front of Danielle and I and took our hand, he then left to go to the middle of the set to begin.  The host looked bored, tired and unapproachable. Even worse, the host looked about 10-15 years older in person then they appear to be on TV – there went Amy's crush… fizzle. Nevertheless, the show began.
Most of the segments were short and every now and then the host decided to redo a particular segment.  One of the funnier segments which I am sure will be cut involved a women and her daughter.  They were asked to taste food and the daughter's face said it all but she told the host it was good, the mother on the other hand just said it was awful, LOL…
Another thing we learned there is nothing that happens naturally on talk shows.  Each of the audience members who appeared on stage during segments was placed in seats beforehand.  So when they say they are picking an audience member randomly, WRONG, it is all pre-planned.
At the end of each segment the host came over sat in a different section of the audience and a staff member took a photo.  The host then got up and waved and left.
We were left with the feeling, "that's it?"  No gift, no food, no water, no coffee and no interaction with the host.  We got out of the taping at approx 12:15PM
So we basically wasted 1/2 day of our precious vacation.  Would I do it again, probably NOT!  Maybe if I had been in NYC for two-weeks I wouldn't have minded losing 1/2 day but losing that off a short vacation was just too much for what we got out of it
Things I learned after my talk show taping experience:
1 hour taping means 4 hours
Get ready to wait in lines
No food, no water, no coffee
No gifts
Nothing is spontaneous
Everything is planned
No photos
No cell phones
No autographs
I guess since we all watch lots of TV we have to look at our morning at the show taping as our contribution to entertainment!