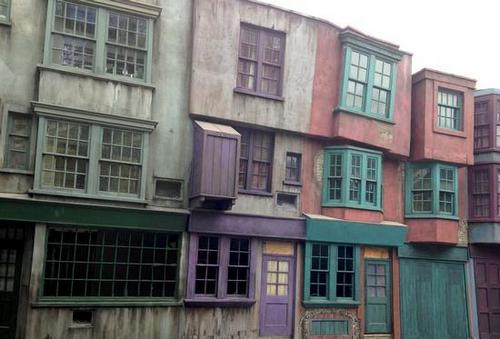 The wonderful people at Theme Park Insider have shared a photo of Diagon Alley in the Wizarding World of Harry Potter expansion. Being a ravenous Potter fan, I had to pass it along!
The addition is still under construction, but rumors as we have reported in Wizarding World of Harry Potter Expansion to Open Early suggest a June opening date. Nothing has been confirmed, but construction seems to be moving along nicely.
Until now, we have only seen photos of the bare bones of Diagon Alley. A video of the Hogwarts Express being tested has also surfaced.
Many rides and restaurants are being added on. Exactly what has not been confirmed, but the concept art hints at a lot! Read more about that and examine the promos for yourself by checking it out here.
A Gringotts thrill ride capturing Harry, Ron and Hermione's break-in will be the highlight of the new world. The Hogwarts Express will shuttle visitors between Diagon Alley in Universal Studios Florida and the original Hogsmeade in Islands of Adventure. Some rumors state that this isn't just a transit…it's an attraction! You might want to keep a Chocolate Frog handy.
A second branch of Ollivander's wand shop better equipped to handle crowds is said to be a part of the expansion along with Weasleys' Wizard Wheezes and Madam Malkin's Robes for All Occasions. I have been wondering if Knockturn Alley will be a part of the addition and, if rumors are true, the answer is yes. Borgin and Burkes will be the feature shop there.
The overall goal is showcase a side that offers more interactive features than ever before.
[Image Via Theme Park Insider]