Couponing While on Vacation
"Grab The Coupon Book," isn't something you hear my family collectively say before we leave the house. I am a coupon maven. It's like printing money, legally of course, and makes me feel a bit like a VIP at times.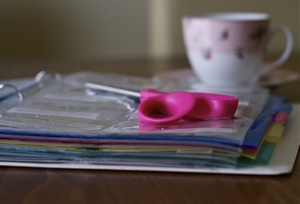 I never pay retail. I don't just say that, I have made it a habit to coupon and hunt deals like some lioness feeding the pride on a budget. (Yes, the simile there is off, but don't tell me a lioness wouldn't have a Gucci crocodile handbag given the opportunity.)
Couponing takes effort. Couponing to the level I like, is almost a full time job. My family has come to accept this quirk of mine and I never leave home without my binder packed with savings opportunities…even on vacation.
On my last trip to Orlando, I balked at the discounted prices of tickets to various theme parks. My daughter just turned 3 and spent most of the time in her stroller. Retail price for a 1 day, bare bones basic ticket to Disney World's Magic Kingdom is currently just under $95 with taxes and fees. SERIOUSLY?! She rode about 3 rides, cried every time Mickey (or another dressed up character) was in sight and napped. Obviously, we couldn't leave her out, but I felt ripped off even at the discounted rate I managed to score.
Coupons made me feel better. We might have taken a hit at the ticket both, but I saved where I could and this is how I did it…
*Stay at accommodations with a kitchen. This seems to raise eyebrows at times being that I am notoriously cheap. I have found a resort that is like a mini-apartment with two separate bedrooms, a dining area, a balcony and a living room. Space is key for my family's sanity and happiness. Plus, the price is pretty comparable to the "value resorts" Disney offers. It's not "on site" vacationing, but I am not a fan of being on a packed property. The key here is that I can make a few meals and save tons of funds. With 3 picky eaters, meals we buy at restaurants are hit and miss. Being on the road or staying at a park all day isn't a leftovers friendly situation.
*Find a grocery store near your accommodations. We aren't lucky enough to have a Publix in my hometown, but I found one just around the corner from our resort. Before I left, I familiarized myself with their coupon policy and clipped coupons I knew we'd use and stowed them in an envelope that fit in my purse. Publix has a digital system, so I could have done without paper coupons and still saved! They also accept competitors coupons so "stacking" (using multiple coupons – like a store coupon and a manufacturers coupon- for maximized savings) is welcomed! Food was extremely cheap instantly. Target it a favorite of mine for stacking. The chain offers Cartwheel, Mobile coupons, Manufacturers coupons and printable store coupons you can stack together for awesome deals.
*Know the area. Get a general idea of restaurants near your location. There are apps and google maps has a filter that will show eateries in the area. Then visit Restaurant.com to score deals on gift certificates.
*Hit up those stands with fliers, pamphlets and discount books. Those stands hold a wealth of coupons, information on restaurants nearby – like what nights kids eat free!
*If you are planning in advance, visit the city's official website. From there, you can usually find deals enticing you to visit their attractions. Do a simple google search for "visit CITY NAME" and you will find several offerings. For example, if you search "visit Chicago" the result www.choosechicago.com will pop up. Click the "deals" tab and you will find discounts on shopping, hotels, entertainment and more.