Family Friendly Haunted Houses and Attractions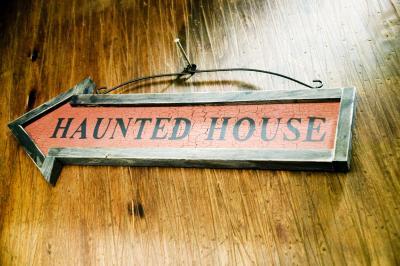 If you are traveling this time of year, you are a savvy adventurer. First, because it is one of the best times of year to indulge in a vacation (click HERE to find out why) and second is thanks to Halloween!
For my family, Halloween is our Christmas. Every year, we gather at my parents home on a chilly evening, pass out candy as hundreds of Trick-Or-Treaters haunting the neighborhood, gobble up a pot of chili before venturing out into the night with the kids. It's incredibly fun and for those who love to be a little scared, it is the best time of the year!
There are TONS of spooky, paranormal and haunted offerings all over the world. Hotels, mental institutions and old houses seem to make up the popular picks. If you are traveling stateside, here are some of the most family friendly haunts to enjoy…
Disney – Mickey's Not-So-Scary Halloween Party
It's Disney World with a spooky makeover. From September 10 to November 1, 2013, the Magic Kingdom hosts Mickey's Not-So-Scary Halloween Party. Aside from the smaller crowds, fellow park patrons dress up in their costumes and trick-or-treat through the park that has a special Boo-to-You Halloween Parade and a Happy HalloWishes fireworks display. If you are in California, you can get a similar experience at their Halloween Time spooktacular that runs Sept. 13 through Oct. 31. Please note that these are separate event tickets you must purchase to participate in. If you have younger ghouls and boys, I suggest a special nap time as the event runs from 7pm to midnight.
If you have an older crowd (teens to adults) to please, Universal Studios offers Halloween Horror Nights that is currently focused on 'The Walking Dead' theme. It too requires a special ticket purchase and it is NOT suitable for younger children and costumes are also not allowed.
Pennsylvania – Halloween in Hershey
I really like the sound of this one! As a kid, I would trade off most of my sweets for chocolate. I'd make a heaping pile of gum, suckers and fruity or sour chews and swap them for "the good stuff." So, Hershey's answer to Halloween fair that is kid friendly is a Trick-or-Treat Adventure for kids 12 and under. It starts at Hershey's Chocolate World featuring 3 stops, and continues deep inside Hersheypark in Treatville, the hometown village of sweets and treats. At Treatville, located inside Hersheypark near FEARenheit, you make your way through this Hersheypark neighborhood featuring 8 stops and receive a snack-sized treat.
Indiana – The Children's Museum of Indianapolis
The Children's Museum Guild's Haunted House is the oldest continually operating haunted house in the nation. The Haunted House is a fundraiser for the museum, raising more than $8.5 million since it began in 1964. Visitors join your ghoulish guide Dr. Timestein for an awfully amazing journey back in time as you explore five "deadcades" of movies, music, television, and history through a terrifying Time Warp. The attraction offers 3 different levels of fright to please those who scare easily to those who thirst for a real scare.
Nationwide – Your Local Zoo
Check your local zoo for events! Many places offer a safe trick or treat option for families and include special exhibits. You will find features that range from costume contests, hay or corn maze and character meet-and-greets and more.
Phoenix, Denver and San Antonio – 13th Floor Haunted House
These locations are for those looking for a little more of a fear factor. It's a little more suitable for those aged 13 and above. The attraction is based on the legend of the absent 13th floor in some buildings. "In some countries, as it is here in the United States, the number 13 is considered unlucky and building owners will sometimes purposefully omit a floor numbered 13. Hence, the 13th floor is sometimes given the number 14." So, this haunted house explores just what happens on that missing floor.
Oregon – Scream Portland
This attraction has a little bit of everything for everyone. Big scares for brave ones and little frights for the younger crowd. Features like, the Black Forest, Nevermore Castle Ghost Hunt, Twisted Circus, Haunted Gold Mine, Voodoo Drum Circle and the Laser Maze Challenge are offered along with tamer offers like a petting zoo and pony ride.