October is the Best Time To Travel – With or Without Kids
I am not a fan of summer. I believe I have mentioned the things that ruin my personal trifecta of happiness – hot, hungry or tired. The warm weather violates at least one of those at every moment. It is also one of the peak times for traveling and fellow parents making the pilgrimage to summer spots like Disney World, which makes it is the most expensive time to travel.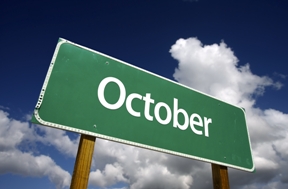 We can partially blame our kids' school schedules for peak vacation seasons. However, please consider different areas have different peak seasons. On a general basis, May-August are the worst times to travel from a financial standpoint. Why? Kids are out of school! This holds true with long weekends and Spring Break. Prices swell during these times thanks to the nature of supply and demand.
Another reason I avoid traveling during the summer is the amount of fellow travelers. I am not one to deal with crowds well. Just like flying, I like to let everyone rush in and get adjusted before I try and navigate my way in. (I never understood the point of boarding first. To me, it just means you are crammed into those tiny seats with passing elbows popping you in the face longer.) When crowds are thinner, I feel like I get a better experience and my kids are a lot happier only waiting 15 minutes versus an hour and 15 minutes.
Traveling experts and vacation veterans generally agree that October is the sweet season for travel to most places. It is usually coined the "shoulder season" thanks to the weather still being cooperative, crowds dwindling as kids are back in school and deals are still be offered to entice consumers.
October also offers some of the best deals on cruises. The Travel Moms has covered a lot of cruise topics lately. You can click here for tips and advice on taking to the sea…
If you are a camping fan, this is the time to invest in new gear. According to Yahoo Shopping, you can score great deals on mild weather items like open-air coverings, pop up chairs and mesh tents.
Keep these quick travel tips in mind when vacationing this time of year…
*Some attractions, like Disney and Universal Studios, offer Halloween themed nights. That means the park will closer earlier than normal and charge a separate fee/ticket for admission – like Universal Studios Halloween Horror Nights. Check their calendars for hours during the time you want to visit.
*Las Vegas hits a peak in October. It is one of the exceptions to the October deals. Washington, D.C. is another city you might want to wait on as Congress is (usually) in session – roughly September-May.
Traveling now offers deals and deep discounts, but it brings up the topic of pulling your kids from school to vacation. Fellow travelers and I have talked about this multiple times. Some fellow traveling mommies think it's a bad idea for kids to miss so much school just to save time and money on vacation. I'd love to get your point of view! Leave your thoughts in the comment section below.