Staycation: Family Vacations in Your Own Back Yard
Thanks to things like finances, time and testy children, vacations can be something you think you can't do. You don't have to spend a fortune on airfares or gas for a road trip to spend a relaxing and fun time with your family.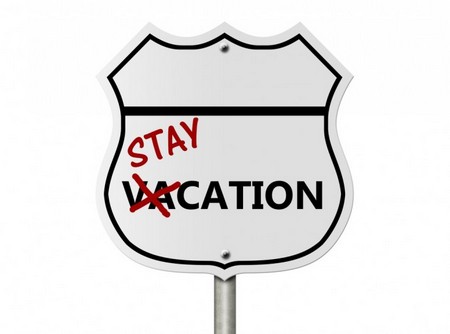 While chatting with some fellow travel savvy friends, the topic of local attractions came up. In my neck of the woods we are surrounded by corn, beans and more corn. However, there are incredibly fun things to do just minutes away from my own back yard. Think of it as a Staycation!
We have a baseball field, a park venue that brings festivals that range from ribs cook-offs to various Greek or German heritage celebrations. Johnny Appleseed is another draw for my hometown area. It may seem to be wimpy in comparison to Disney World, but after I went on a vacation in my own city – my wallet wasn't empty, my kids had a great time and actually learned something while soaking up some culture, we didn't spend hours in cars or waiting in long lines and we found a new favorite restaurant. All of that made it the happiest place on earth for us!
You'll be amazed at what your city has to offer. If you live in a small town, make the drive to your nearest city and discover what they have to offer. I recommend by starting with some research. Treat your trip like any other and do a net search on your city of choice. Add the term "visit" to your search to help narrow down the results.
Personally, I learned that our local zoo was featured in Parents Magazine as one of the Ten Best Zoos for Kids! We also discovered an olive oil and balsamic vinegar tasting bar. Being that we are big foodies, it was a great find. To make our trip feel more like a vacation, we stayed at a hotel in the downtown area that is about a 40 minute drive from our house. It was just one night, but it got me away from my home office and my kids were just excited to do something new.
Even better, I stopped by the visitors center and scored coupons to my favorite local restaurants! Often, residents in Florida get special discounts others can't.
If the budget is even tighter, I highly recommend a backyard camp-out. Now is the time to invest in some mild-weather outdoor gear if you don't already have it. (Wait on winter-weather outdoor gear.) I bought a tent and it has come in so handy for fun sleepovers for the kids! I am not a fan of the outdoors, for me, nature is beautiful…from a distance. However, access to running water and a hot shower and cup of coffee in the morning while sleeping under the stars with my kids in the backyard was a blast!
It is far easier on the budget and it removes you from doldrums of everyday life. Sometimes, getting away can be as close as your backdoor.