Restaurant Review: T-Rex in Orlando, Florida "Great Fun For The Whole Family"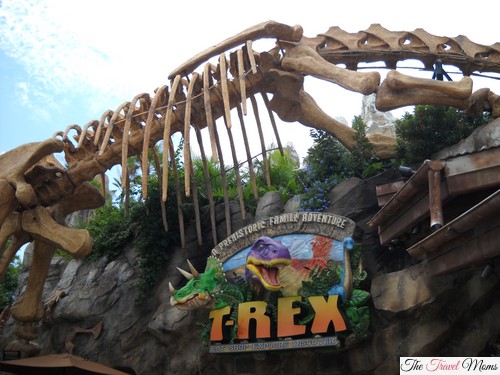 Orlando, Florida is a usual destination for our family every summer and when we heard that they were opening the T-Rex Cafe in Downtown Disney, we were so excited to try it. We've been there three times and I can honestly say that we absolutely loved it every single time. This is a place where you can truly eat great food, shop, explore and discover.
When you walk into the restaurant the prehistoric animals literally come alive and hopefully you are lucky enough to be seated in the ice age cave that changes colors. During the meteor shower that occured every 20 minutes we couldn't even hear ourselves think, but it was all in good fun and a part of the experience which is fantastic.  Even with a reservation, we had to wait in line for a bit, but it was well worth the wait.
In most of these touristy restaurants you go for the experience and not the food. T-Rex is not that kind of place, the great experience includes the food. Each time we went, we really enjoyed the food and the special drinks served in light-blinking glasses.
Some of the items my family ordered were the Colosso Nachos For Two, the Megalosaurus Mozzarella and the Gigantosaurus Burger which were all terrific. The Chocolate Extinction looked amazing for desert, but sadly we just were too full by the time we finished up our meals. But, there is always this year, I'll let you know if we try it.
Service was friendly and very attentive, my diet coke never emptied. When you are done eating, check out the gift shop; we left with a triceratops from the Build-a-Dino (same concept as Build-a-Bear).
Along with all the positive, the only negatives are that the restaurant is expensive but to be expected as it is located in the heart of the Disney Market Place and for groups of more than six, there is an 18% gratuity added automatically to the bill which made it really expensive since we were a party of eight.
Would I return to the T-Rex, absolutely… but I would split up into groups of 4; it's not worth the 18% to sit together.
To find out more about the T-Rex Cafe, visit their restaurant, CLICK HERE …
[CLICK ON THE IMAGES BELOW TO MAKE LARGER]