Review: Myconian Ambassador Hotel & Thalasso Spa Center, Mykonos Greece – Excellent!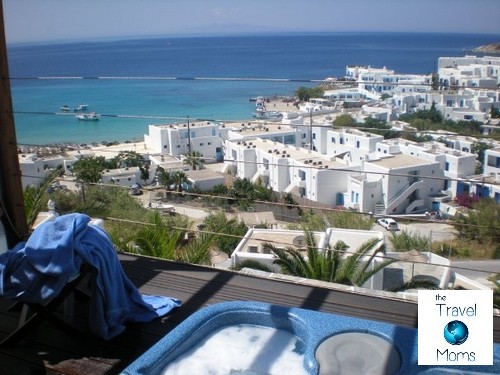 The Myconian Ambassador Hotel & Thalasso Spa Center  is located in Mykonos Greece.  I traveled with my fiance to the hotel on the fourth stop of our European vacation and we could not have asked for more, the views from the hotel were amazing (check out our photos) and it was a magical experience.
We had just spent a week in Italy and were exhausted from walking everywhere… The Myconian was what our bodies needed.   From the moment we arrived we were treated amazingly and we were upgraded for free to a room over the cliff with a huge outdoor jacuzzi!
The hotel was so relaxing. We couldn't have asked for more.  The rooms were utterly amazing and the products provided in the bathroom were excellent.  Can you believe all the products were Korres Natural Products?  I have never been so spoiled in my life.  The staff were exceptional and they made sure we were very well looked after.
The breakfast was included and was absolutely excellent, absolutely delicious!  We stayed five days and I gained about 5 pounds!
The beach is just a couple of steps away. The beach area is nice… you must pay for your seats, but often the restaurants will give you a discount for lunch 🙂
I would go back to the The Myconian in a  heartbeat… Check out the WEBSITE HERE!  Choose this place 🙂 if you are in Mykonos!
[CLICK ON THE THUMBNAILS BELOW TO ENLARGE THE PHOTOS]