Travel Tips: Check Travel Advisories/Warnings Before You Leave On A Trip – How and Why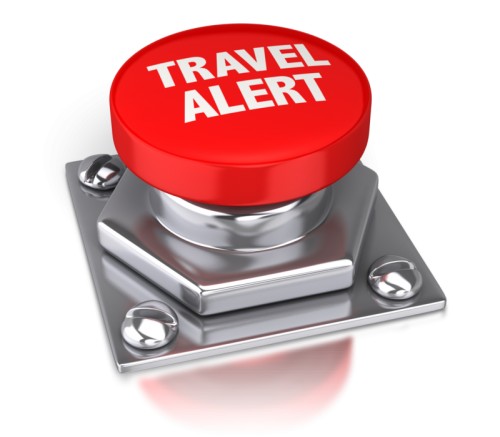 Many, many travelers don't even know what travel advisories are, much less how to check for them. Travel advisories are alerts and warnings, usually issued by governments and their agencies, designed to notify their nationals of weather, health-concerns/disease, or political unrest/violence/criminal situations that the traveller should be aware of BEFORE travelling to the destination in question. If it's a domestic flight, they'll usually tell you at the airport if it's weather related or something minor, and they'll usually email and/or call you if it's something serious. However, with international travel the responsibility generally rests with traveller, which is why it's important to check for travel advisories before you make an overseas trip anywhere.  In fact, even in the early planning stage of international trips it is wise to inform yourself of any special advisories, especially regarding health, as vaccinations may need to be taken well in advance.
Now, one type of advisory is a travel alert, which is usually short-term. Examples of alerts are when there are natural disasters, terrorist attacks, election violence, protests, major sports events, or anything that may pose a risk to the traveler. For example, travel alerts were issued last month to anybody traveling to/from Yemen, because the government got some information about a possible terrorist attacks there.
Some travel warnings are issued significantly in advance, and warn the traveler to avoid the country completely. Travel warnings are issued when there are long and drawn out conflicts such as wars, regional unrest that have lasted for a long time, or violent political dissent. For example, at the time of writing this article (8/28/13) there are travel warnings issued for countries like Syria and Afghanistan.
So make you sure you check, either on the airlines web page, or the airport website, for the latest travel advisories. It is also a good to check with your domestic government site for any updates or changes regarding your destination. Usually, when you book your tickets, they will let you know where to find this information since it varies for each country and airline – if they don't tell you automatically, then ask.
No matter where in the world you intend to travel, make sure you check the Travel Advice and Advisories page twice.
For the latest updates on threats and conditions the Government of Canada considers unsafe for Canadians around the world. [CLICK HERE]
For the latest updates on threats and conditions the Government of the United States considers unsafe for Americans around the world. [CLICK HERE]
Don't take this post to indicate that foreign/international travel is inherently dangerous or risky – it isn't – so long as you do your homework and prepare.