Vacation With Home Swapping: Hotel Alternative Can Be Rewarding Fun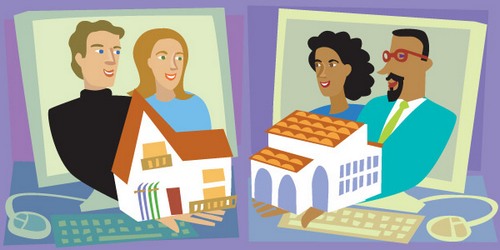 One of my favorite Christmas movies is, 'The Holiday.' While watching it during some down time this season, it inspired me to do some research on home swaps. In the film, Cameron Diaz and Kate Winslet switch homes for a vacation from their romantic problems. Cammy D goes to Kate's charming English cottage and Kate gets a luxurious stay in sunny California. Diaz discovers Jude Law and Winslet gets involved with Jack Black to ignite new problems in the love department.
HomeExchange.com provided the base for the swap and I questioned as to whether or not letting total strangers use your home for vacation purposes was still a thriving practice. The answer is – yes. There are many different providers that set up the swap – kinda like a match maker for travelers.
Home Exchange was featured in the film and is still thriving. Members list their homes and show off what makes their home unique. Then, members can search the existing database and contact other members via a messaging system to offer a "trade" for a set period of time. It is a more independent adventure, but there is a dedicated team of Local Representatives who speak your language, who themselves have been home exchanging for years and who can give you advice that applies to your specific situation. This is great for budget conscious travelers.
OneFineStay.com joined the ranks in 2010 and heads a more international appeal. Their goal is to "unhotel" your vacation by renting out someone's home so you can literally "live like a local." The service is based out of London, but it has now grown and branched out into L.A. You can also find first class digs in Paris and New York. The company aims to arm visitors with as much local and insider knowledge as possible. Where Home Exchange is a match-maker, One Fine Stay is like a life coach. Each home available is meticulously inspected to assure visitors they are getting a primary residence that is rich with amenities and up to par. Visitors also get hotel-like treatments like fresh linens, luxurious toiletries and tons of information. The home is cleaned by One Fine Stay staff before and after visits. Expect to pay at least $250 a night in these unique homes and get insider info via their iPhone app.
Airbnb.com is another competitor in the market. From apartments and rooms to treehouses and boats; you can stay in unique spaces in 192 countries. This service is similar to One Fine Stay. You pay to rent out someone's home for a set period of time, however anyone can apply to be a host and guests are patched through to the host after a reservation request is accepted. So, it is like a mash up of the two options above. The homeowner provides everything – towels, toiletries, cleaning, local information and linens. Guests and homes then rate each other after the stay. Airbnb also provides coverage for your property up to $1,000,000 in eligible countries.
I love the idea of these! Home Swapping sounds great for those travelers on a budget and Airbnb can help you make a little money while you are on a vacation of your own. The options and choices seem endless and you can get a great experience you won't find in a tiny hotel room.