Baggage Tips: Save Room and Money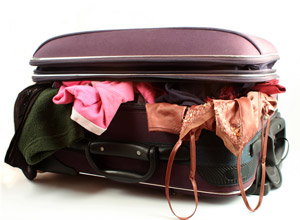 These days you might as well count your bags as passengers as flying fees continue to swell. Large family, big presentation, golfing trip or ski weekend can cost you big when it comes to getting your gear where it needs to be.
Generally, airlines have a weight limit. If you are over by a couple of pounds clerks and attendants in a good mood will let it pass. However, if you are more than 5 pounds over you will have to start shoving items from your bag into your purse or carry-on. If you can't, you are hit with an fee to fly your bag. AirFareWatchDog.com states that charges for heavy bags can run up to $200 one way. In most cases, it is cheaper to ship your bags via the postal service.
UPS has an online shipping calculator you can use to literally weigh your options. Often, shipping it on your own is less of a headache and you have a stronger confidence that your bags are going to be where they are supposed to be. To save more, plan and ship as far out in advance as possible. Obviously shipping a heavy bag overnight is going to cost far more than standard ground services. UPS even offers a luggage box that can eliminate the suitcase weight. An empty suitcase alone can weigh 10-15 pounds. FedEx offers large bags that are puncture resistant and special boxes for your golf clubs. You can also add insurance on your baggage and, in some cases, postage is something you can write off on your taxes.
If weight isn't an issue and space is, there are several tips you can employ to stuff your bags.
*Roll Up – Instead of folding piles, roll your clothing to combat wrinkles and space consumption.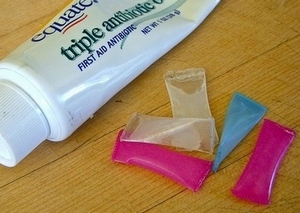 *If you are going on a longer trip and have access to washing facilities, consider packing less clothes and washing them while you are away. On a recent trip to Florida, my family had a condo with a washer and dryer for our 2 week vacation. We packed less clothing, but bought some detergent at a Publix down the street and just did a couple of loads of laundry. We were able to pack all our needs in one large bag and the rest in carry-ons this way. We saved BIG!
*Set on using your own toiletries and don't want to spend the extra cash on travel sizes? You can make your own! Grab a couple of straws – I usually grab a few from Wendy's as they are larger – and cut them into desired lengths. Use a lighter to heat one end and seal it shut by pressing firmly together. (Pliers work great for this!) Squeeze your lotions, shampoo or creams into the straw and seal the other end. Make sure you use a marker to write what each tube is filled with.
*If you are on a shorter trip and staying at accommodations that will provide toiletries consider skipping packing your own. Call your hotel or resort in advance and find out what freebies they offer. It might save you space and weight to use the complimentary goodies instead of shelling our for travel sized items or bringing your own full sized.