Five Unique & Fun Ways to Spend New Year's Eve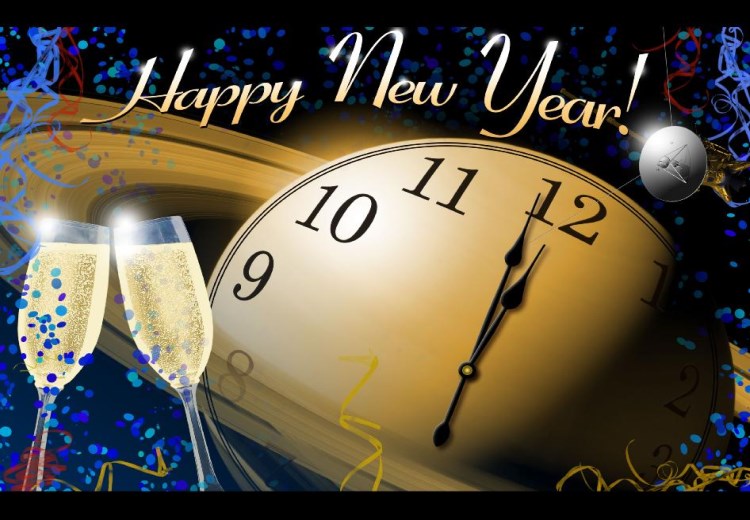 It's that time of the year again where we ring in a New Year.  Do you stress about what to do New Year's Eve?   Tourist Meets Traveler decided to find some unique and interesting ways to say goodbye to 2013 and hello to 2014.
The Cove, Eleuthera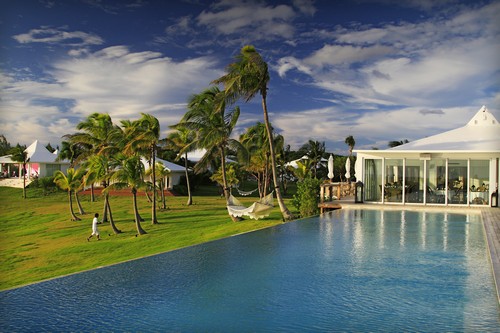 A fun and warm place to spend New Year's Eve is The Cove, Eleuthera, located in Gregory Town, Bahamas.  Who would not want to leave the cold winter weather behind for warm spa getaway?  At The Cove, Eleuthera they are ringing in the New Year with a Caribbean beachside party complete with Bahamian Junkanoo band, fine dining and fireworks at midnight. How much fun does that sound?
The Cove, Eleuthera resort and spa has 2 private beaches and is throwing quite a party to ring in the New Year. The resort's own charter plane can pick up overnight resort guests in Fort Lauderdale and have you on the island in 45 minutes.  This is a party not to miss!  The TMT Gals have not visited yet, but it looks like a wonderful place not only to party, but to vacation.
NYE Walleye Drop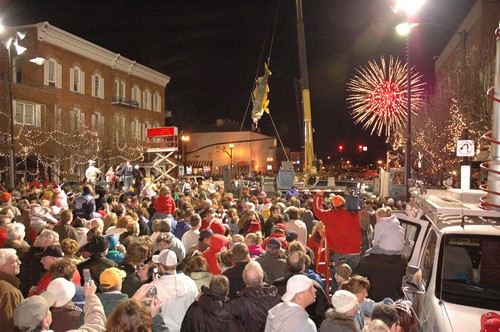 Another fun and totally different way to spend New Year's Eve and to make your angler husband happy is to visit the small Lake Erie harbor town of Port Clinton, Ohio.  They hosts a very unique annual winter event called the "Walleye Drop."  It looks like loads of fun.
While the majority of people will be gathering to watch the ball drop in the Big Apple, something quite different free falls along the south shore of the Lake Erie Shores & Islands… a gigantic fish – a walleyed pike in fact!
At the end of every calendar year, the town of Port Clinton reels in the upcoming season with visitors and locals coming together to watch a 20-foot, 600-pound fish plummet from the sky. It's actually a pretty interesting sight and definitely not every day – a gigantic game fish amidst the backdrop of fireworks in place of where a New Year's ball typically is.  This is a New Years Eve party I would love to be attending.
The Walleye, the species of fish that rings in the New Year is the most iconic and sought after trophy fish of Lake Erie. The entire festival is not only an ode to New Years, but to the heralded Walleye. From Walleye White wine to the kid-friendly midnight party dubbed the "minnow drop,' everything pertaining to the celebration has a fishy twist.
Snow Mountain Ranch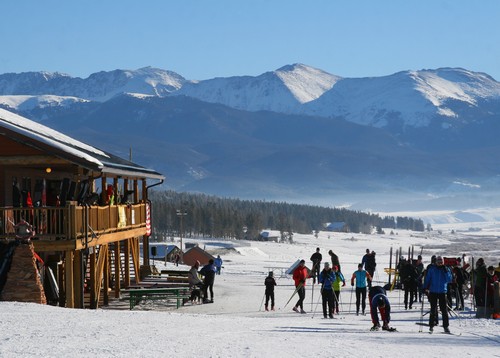 Snow Mountain Ranch is a great place for the whole family to spend New Year's Eve.  Not only can parents celebrate New Year's Eve but the smallest guests celebrate Noon Year's Eve, with a noontime countdown. A ball-drop and games appropriate for toddlers and younger kids are all part of the festivities. Hopefully all the fun activity will ensure that the little darlings will be safely tucked away in bed when mom and dad celebrate the New Year's arrival at midnight!  That evening from 8:00 pm to 10:00 pm will be an East Coast NYE Celebration in the popular Kiva Center.  Party activities include rollerskating, games, a rock climbing session, treats, and the ball drop celebration at 10 pm (East Coast time).
Snow Mountain Ranch is a year-round resort and in the winter offers amazing nordic skiing, dog sledding, snow shoeing, tubing, ice skating as well as plenty of indoor activities such as indoor archery, an indoor climbing wall, swimming and a craft shop.
Located near Rocky Mountain National Park & Grand Lake, Snow Mountain Ranch offers a wholesome environment where friends, families and groups enjoy a tranquil setting, fresh air and beautiful nature, spending quality time together with an abundance of year-round activities.
Time Square, NYC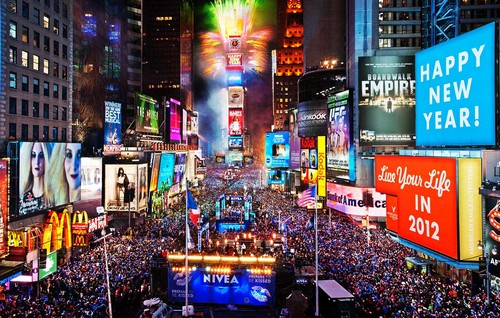 Are you ready to brave Times Square for NYE with 10,000s of other people?  The first New Year's Eve celebration at Times Square took place in 1904 and there were 200,000 attendees. During the initial celebration, an all-day street festival culminated from a fireworks display set off from the base of the tower.
This year, they expect, roughly one million people will continue the tradition as locals and tourists crowd the New York City streets for the famous annual ball dropping event in celebration of the New Year – 2014.  The NYC streets will fill up as early as the morning of New Year's Eve to get as close to the center of action as well as a good view.  If you decide that you are going to wait and watch the ball drop you are going to have to know a few things, there are some handy Time Square NYE tips right here.
Some fun facts about this year's ball:
The Ball is a geodesic sphere and 12 feet in diameter.
The Ball weighs over 11,00 pounds.
The Ball is illuminated by over 32,000 LEDs
The Ball is covered by over 2600 crystal triangles of all different sizes.
The Ball is able to create a palette of more than 16 million vibrant colors with billions of patterns that produces a kaleidoscope effect.
Brunswick New Years' Eve Celebration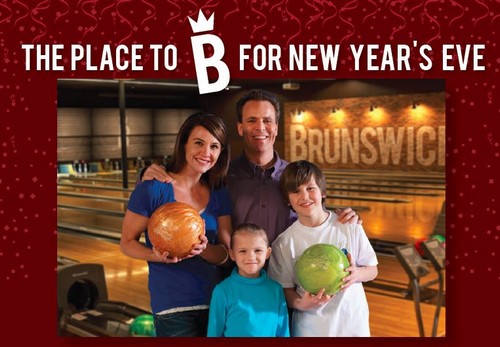 Spending New Year's Eve bowling with the family is a fantastic way to bond and celebrate. While others are waiting for a single ball to drop at midnight, you and the gang will be dropping balls all evening – or at least bowling balls! A great place for the family to spend New Year's Eve is at the new upscale bowling concept in Buffalo Grove, Illinois and the Atlanta area (Norcross and Marietta, GA).   Each of the three locations are hosting two NYE parties:
4-7pm Family Package, $80/lane up to 4 people, +$10 for each additional person: bowling, shoes, $5 game card per person, one Urban Mission pass per person (Buffalo Grove location only), one kid's menu item for all kids 12 and under, sparkling cider "midnight" toast, "midnight" countdown, noisemakers and party hats.
9pm-1am Party Package, $100/lane up to 4 people, +$20 for each additional person: bowling, shoes, $5 game card per person, one Urban Mission pass per person, choice of 3 small plates, 1 bottle of champagne, midnight countdown, noisemakers and party hats
To find out more information we have a copy of the fliers for the event at Buffalo Grove and Georgia.
Fun New Year's Even Facts:
Auld Lang Syne the traditional NYE song is from old Scottish dialect written by the great Robert Burns in 1788 and can be translated as "times gone by". The poem/song is about love and friendship in times gone by.
An old custom was to open the door of the house at the last stroke of midnight on New Year's Eve to allow the old year out and the new year in.  The old year is often represented as father time and the new year as a baby.
An estimated 1 billion people worldwide watch the Times Square ball drop.
At midnight in Japan, Buddhist temples all over the county ring bells 108 times.
Julius Caesar was the first one to set January 1st as the New Year. When he established the Julian calendar, modestly named for himself, New Year's Day was also established.