New Legoland Hotel to Open in Florida, Plus Other Disney Alternatives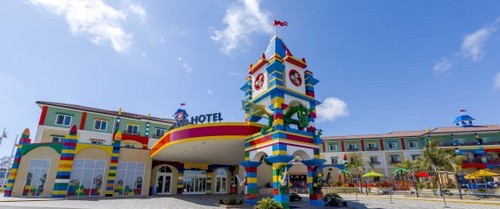 Florida may be known for Disney World, Universal Studios and Miami's heat, but Legoland is looking to cash in on some of that tourism. There are thousands of things to do for those travelers looking to find an alternative option. Don't get me wrong, the parks are indeed magical, but the adventures are endless!
Legoland Florida executives have confirmed that a 152-room hotel will be built onsite. The goal is to encourage visitors to stay and play at the theme park featuring 50 rides, attractions and shows. The brand already has accommodations in California, England, Denmark and Malaysia. The location sets where Cypress Gardens used to call home; about 50 miles from Disney. This is just a seed that Winter Haven Mayor JP Powell hopes will grow into another flourishing tourist-friendly area.
The addition will add options for guests who want to soak up all the area has to offer, including the Legoland Water Park. You can score everything you need through the Legoland site. Vacation packages, car rentals and tickets along with park maps and interactive features will keep your kiddos busy. A Military discount is also available. Check out more military discounts by clicking here.
The new hotel will resemble its counterpart in California according to executives. Of course, several new features will be added. Exactly what those are hasn't been shared yet. However, it will overlook Lake Eloise where water ski shows are still held and feature themed rooms.
When it comes to capturing the magic at Florida when your kids crave Mickey, there are other affordable options that will satisfy their cravings.
*Downtown Disney – This started out small and grew into a hotspot. I remember visiting it when I was younger and a few restaurants and shops delighted guests. Now, you can shop at stores that I found offered more options for my kids. My daughter found her mouse ears there and wore them to the Magical Kingdom the next day. While there, 3 other guests stopped us and asked us where we found them. They weren't offered in the park and we sent them to Downtown Disney. The are offers a few rides suitable for the younger crowd and a hot air balloon adventure. Those aren't free, but they are a great alternative to an extra day in the park.
*Disney Boardwalk – Another offshoot that has the charm and whimsy of a Coney Island.
*Wonderworks – The upside-down building calls to kids. The inside is just as alluring. It houses more than 100 hands on exhibits for families to experience including an earthquake booth, hurricane wind tunnel and even a magic show.
*Medieval Times – Dinner and a show will cover you here! Click HERE for Tourist Meets Traveler's full review with pictures.