Medieval Times Chicago: Tourist Meets Traveler Review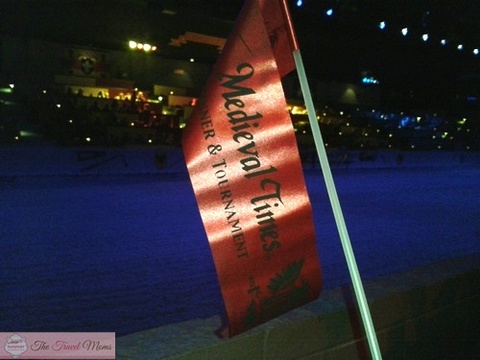 I have had the privilege of venturing to Chicago several times in my life. An eclectic mix of theater, art and museums compliment the architectural skyline that is anchored by buildings like the John Hancock Center. I won't forget the ample amount of sports either! There is so much to do that it will take a lifetime of visits to conquer all the city has to offer.
I have cruised the lake, ridden a giant Ferris wheel on Navy Pier, eaten a burger served by a sassy and sarcastic waiter at Ed Debevics, dug for dinosaurs at the Children's Museum, but the most fun I have had in the Windy City was at Medieval Times.
For some reason I associate the dinner and tournament with Florida. I was surprised to learn that there are actually an abundance of locations. This paticular castle is just outside the inner city hustle. (About 30 minutes from Willis Tower.)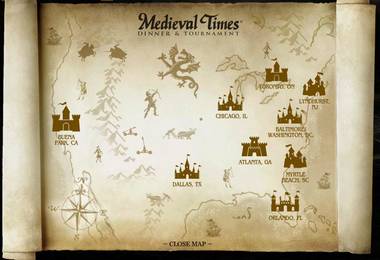 Atlanta, GA
Baltimore/Washington, D.C.
Buena Park, CA
Chicago, IL
Dallas, TX
Lyndhurst, NJ
Myrtle Beach, SC
Orlando, FL
AND
Toronto, ON
As I child I begged my parents to take me to the giant castle, but we never made it. Now that I have children of my own, I have made it a point to experience the show at least once. However, you don't need to have kids to have fun. I noted several bachelor parties, a couple of wedding anniversaries and even a 21st birthday that were all being celebrated the night I went. At first I wondered why, but the show soon proved it is so much more than just a kid pleaser.
You enter the castle and immediately are greeted with titles like "Lord" and "Lady" which is fun, but the staff take the experience seriously and rarely miss a beat. As we took a picture with a squire, he asked if the device would snatch his soul or just his handsome looks. They speak in a manner that is amusing, but not patronizing, while sneaking in a tiny bit of a history lesson.
From there, guests of the king are divided into sections emblazoned with the color of their knight. We were adorned with red paper crowns that my kids didn't take off until they went to bed that night. I thought we'd be ushered straight into the arena, but the Chicago Castle is packed with other areas to explore. A few of the show's horses are in a viewing area across from a Dungeon that you can tour for an nominal fee. Booths with shirts, crowns, conical princess hats (they are called "hennin" according to one wench), swords, wands, flashing light necklaces, wooden axes, banners, cups and trinkets beyond imagination are offered. My husband quickly found a bar for the adults that offered ales and even scotch in souvenir cups you keep.
*Tourist Meets Traveler Tip: Make sure you arrive as the doors open! This will give you plenty of time to explore all the castle has to offer. Plus, seating is first come, first serve unless you purchase an "upgraded" package.*
As the arena filled, guest were already chanting for their nights. Our red section managed to get a rivalry with the green section before the wench came for our drink order! It was a fun, competitive edge that kept the kids entertained and the bachelor parties in our section cheering. My nine year old was standing and shouting "Red Rocks!", my five year old was brandishing her light-up necklace in the air as my two year old waved her little red banner furiously at our green rivals. It truly was a moment I won't forget!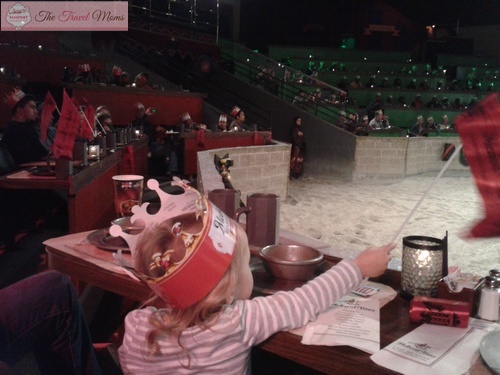 The lights faded and the show began with a lone stallion taking the sandy arena. It was beautiful. The lights and music conveyed a bit of magic before being joined by the King's hand to host the tournament. Before the battle began, a spectacle of gorgeous beasts danced around the entire arena. Each stallion showed off their particular talent and one in paticular performed a bouncy little trick that made my five year old lean over with eyes the size of our dinner plates and say, "That horse is Donkey from 'Shrek'! Remember when he turned into a stallion? Trot in place! Trot in place!" I couldn't help but laugh and agree.
It wasn't just about the horses. A falcon was brought into the center of the ring and it flew across the audience showing off its beautiful wingspan. All eyes were turned upward as it soared around us. An audible, but hushed tone of "ooh" and "ahh" could literally be heard.
Soon, the arena was filled with banners, knights, squires, horses, the King and the Princess. It was a dazzling display of colors and cheering. Our plates were soon being packed with tomato bisque, garlic toast, "mini dragons" (half a chicken), "dragon fingers" (ribs) and potatoes. We all tore into our food with our hands and, at one point, my five year old was waving a chicken leg in the air as our knight came out. Of course, vegetarian options are available too. The fare ends with a pastry of the castle which our wench equated with an apple turnover.
I won't give the entire show away, but the knights exercise their skills in a series of fun and often amazing displays. Lances are used to hook tiny rings hanging from a pole, the men scoop sticks from the ground while riding their steed, they take aim at a small target while throwing spears as they gallop past, but the relay race had the crowd on their feet!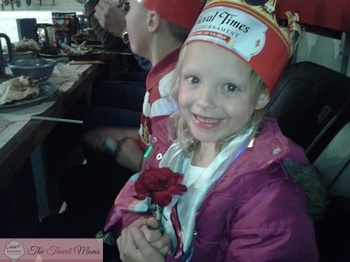 Yes, there is true jousting! After a mysterious visitor arrives, the knights don armor, shields, lances and ride full speed at each other before wood and steel collide in a thunderous crunch. My son turned to me with a THAT JUST HAPPENED!! look that made me smile.
After each victory, knights were given flowers to honor their adoring ladies. My daughter couldn't stop smiling as our knight gave the carnation a kiss and threw it to her outstretched hands.
Tourist Meets Traveler Tip: You don't have to be in the front row to get a flower. Just be enthusiastic and wave at the knights. There are several opportunities to get a flower from your hero.
Swords swing and strike together with sparks and resonating metal clinks that fill the air even above the cheering crowds. Knights, flip, roll, dive, dodge as medieval weaponry of all kinds appears from waiting squires. Each hopeful victor appears to have a favorite. The blue knight wielded a giant axe, our red hero preferred a flail (long club with a chain bearing a spikey ball on the end) and another used a double sided axe to nab his victory. I promised I wouldn't spoil the plot, but I will say that even a cracking whip was featured!
I'd like to note there is NO gore. Injuries are just conveyed by those fallen heroes being helped out of the arena as they, limp, give slight moans of pain and breath heavy after their battles. As our knight defeated our green rival, he limped by us and my daughter shouted, "It's ok green. Our red knight was just too awesome. Maybe next time."
There wasn't a boring minute of the show. My kids were entertained from the moment we walked into the castle until they fell asleep in the car on the way back. I highly recommend you experience the dinner and tournament – with or without kids!
Some may scoff at the prices, but remind yourself this is dinner and entertainment. Add up how much you'd normally spend for a 4 course dinner out with the family. Now, add the price of a live theater show. In addition, you sign can up for the King's Court which will put deals and special offers right in your email. Currently, the Medieval Times website is featuring a few specials which include "Throwback Thursday" and "Fall Into Action."
Disclosure: Tourist Meets Traveler received no compensation for the review of Medieval Times. Any and all opinions expressed are that of Tourist Meets Traveler.