Halloween Family Fun: Pumpkin Picking On a Farm with Our Toddler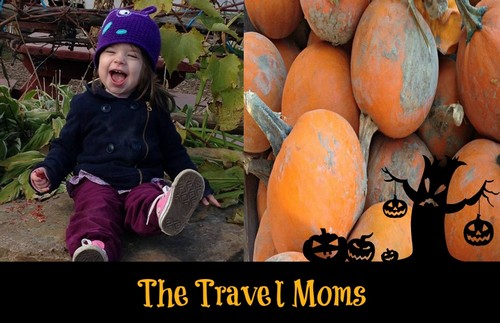 With Halloween approaching everyone's gearing up for costume and treat shopping and preparation but pumpkin picking is still the most special activity.  Last weekend Daniel and I wanted to do one last Halloween family activity, so we decided to go to a farm for pumpkin picking day.  Luckily, situated within 20 minutes of Montreal, Quinn Farm is a wonderful family day out with a fun packed day of farmyard activities.  This was not our first visit to Quinn Farm, in the late summer we went blueberry picking there and found it was the perfect place to take our 2-year old, Ava.
Picking pumpkins with your child can be a bit of work but it can also be incredibly fun if planned in advance. Always, always plan in advance. Daniel and I did not plan much and we spent a lot of time discussing what size pumpkin we wanted.  I wanted the largest pumpkin and Daniel, who is more practical, wanted a medium sized one, while Ava wanted the baby ones.  She could hoist those!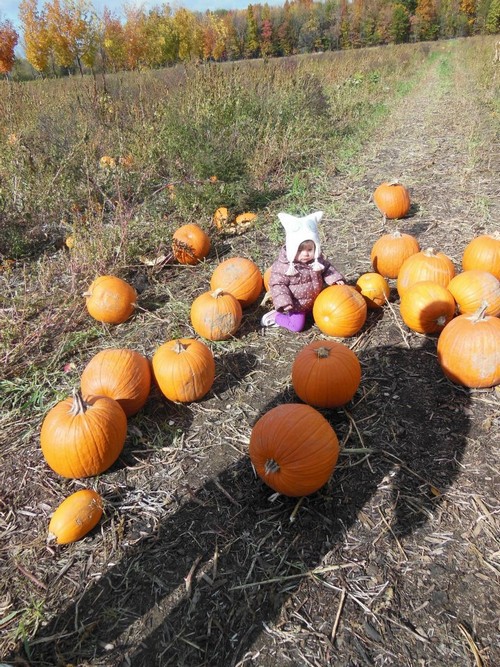 The three of us hopped on the tractor that would take us out to the pumpkin patch.  When we got to the patch, there were many sizes and shapes of pumpkins. If we had made up our mind on what type of pumpkin we wanted before we set out then this choosing a pumpkin would have have been a piece of cake. We would have just looked around and found one that fit the bill, but that did not happen…. We spent a lot of time laughing and walking through the patch until we all agreed on the perfect one, hmm, ones.  We were really lucky as the day we chose was cool, but sunny and we were dressed perfectly.
The Travel Moms Tip: Make sure you go pumpkin picking during a time of the day that's not too hot or not too cold, because chances are you'll be spending a few hours looking for the right pumpkin. 
Most farms have kid-friendly activities and Quinn Farm is no exception.  They have things like children's play areas and opportunities for the children to meet some farm animals. This was a great opportunity for us to have some non-pumpkin related fun with Ava.  Ava was very excited to visit the farm animals, we had to hold her tight so she did not run right in the barn.  We visited the chickens; rabbits; donkeys; llama and goats.
Once we had our pumpkins and got home, it was time to carve and clean the big one. First we cleaned it, and removed the guts. I let Ava dig her hands into the squishy pumpkin to clean the pumpkin and she giggled and giggled.  She had so much fun pulling the pumpkin guts out.  Ava and I laughed a lot, she thought it was all very funny.  At one point she wanted to feed the pumpkin guts to our cats but they were mysteriously uninterested.
Then, once our pumpkin was clean, we washed it and start carving. At this point, I made sure to keep Ava a safe distance away since I was carving with a knife and we didn't want any accidents.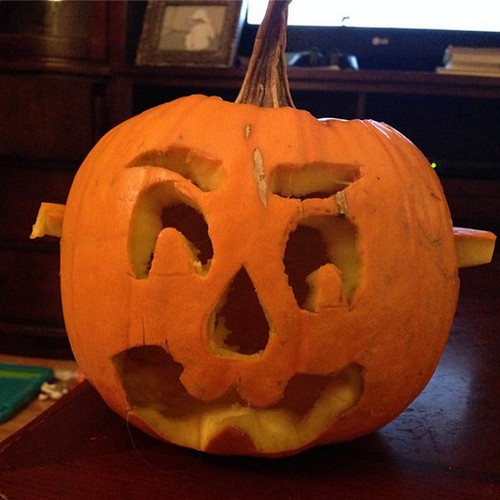 Of course, I could have decorated our carved pumpkin with lights or other fun accessories.  Perhaps older children would enjoy that, but Ava was just happy the pumpkin was carved.  In a nutshell, pumpkin picking is a great bonding exercise to undergo with your children.
Above is our finished pumpkin!  How do you like it?  But WAIT, that was not it, we had to make sure the whole family was happy with the pumpkins, so we brought a few more for our outside stairs. Our family now had a family of pumpkins!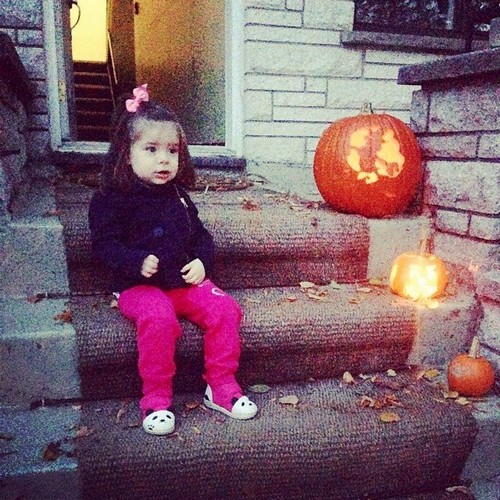 Happy Halloween!