Wizarding World of Harry Potter Expansion – The Leaky Cauldron Restaurant Confirmed!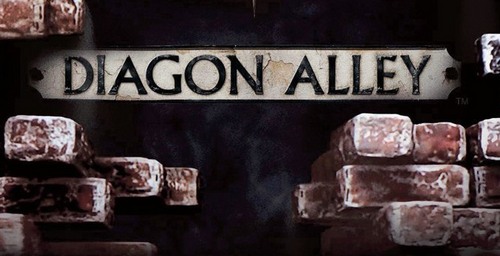 Ever since the 'Wizarding World of Harry Potter' opened in Universal Orlando's Islands of Adventure I have been theorizing what the expansion would entail. Oh yes, a gut feeling told me that more would come. Eventually, construction began. I remember riding 'The Dragon Challenge' and trying to set aside the thrill to try and peek at what was going on. After JAWS was bid a final farewell, we finally received a confirmation that the expansion was happening.
Since then, details have slowly been emerging about all the wondrous wizarding offerings that will join Hogsmeade.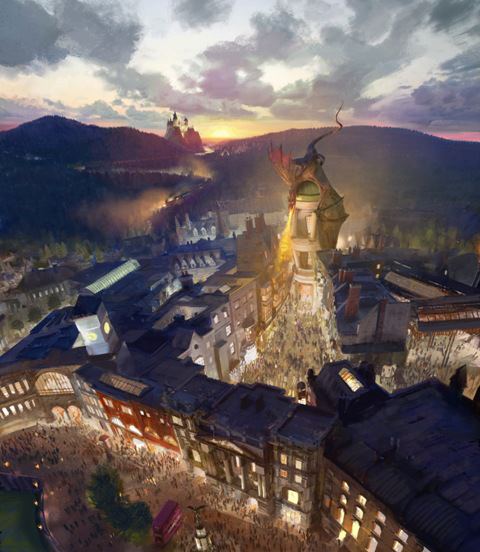 *A Gringotts Bank thrill ride based on Harry, Ron and Hermione's escape was hard to hide as promotional art showed the beast astride the building.
*The Hogwarts Express will no longer sit motionless as you enter the attraction. Soon, it will be a working transport to and from Diagon Alley.
The Travel Moms Tip: Rumor has it that screens inside the train will show scenes of the country side journey from Platform 9 3/4 to Hogwarts. It has not been confirmed though.
Today, another confirmation of what visitors can expect from The Wizarding World of Harry Potter Diagon Alley Expansion was released!
Mike West, executive producer at Universal Creative, has confirmed The Leaky Cauldron restaurant existence stating, "We are in the process of an historic expansion at Universal Orlando and there are more entertainment options than before."
The Three Broomsticks in Hogsmeade is the current wizarding fare offered serving British staples like Fish and Chips, Shepherd's Pie and Cornish Pasties. Park favorites, like Turkey Legs, are also offered too. However, I recommend The Great Feast! You will have full bellies and it promises to feed a family of 4, but we had leftovers that made a great midnight snack along with a Chocolate Frog later than night.
As to what the Leaky Cauldron will offer…that is still unconfirmed. Details from the book present it as a pub that serves as the entry to Diagon Alley (and Knockturn Alley). Harry stays there after blowing up his Aunt and riding the Knight Bus in 'Harry Potter and the Prisoner of Azkaban.'
And – because I am that kind of Harry Potter fan – in chapter 3, Tom, the wizened and toothless landlord, presents Harry with a tray of tea and crumpets upon his arrival. Do I think it will make the menu? Kinda doubtful, but it would be fun!
Other details from the book include: a handsome wooden staircase, breakfast, a backyard where a brick wall serving as the entry to Diagon Alley (tap the the third brick from the left above the trash bin) and a dinner Tom serves Harry, Hermione and the Weasley family that included 5 courses culminating in chocolate pudding.
I cannot wait!
Hogwarts Express Image Via Hypable