4 Secrets for Booking a Disney Cruise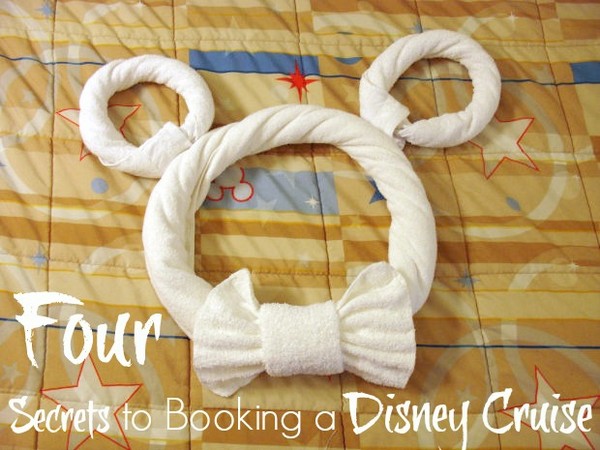 You've heard of Disney World and Disneyland but did you also know you can hang out with Mickey at sea? Disney Cruise Lines was one of the first to offer cruises specifically targeted at families with young children and over the years the popularity has continued to rise. Disney makes it easy to add a cruise onto your park stay (or vice versa). But it probably isn't a surprise that taking a Disney cruise can really add up. To get the best experience for your money here are four tips to keep in mind when making your plans.
1. One of the cheapest ways to cruise is by booking an interior, windowless room. If you don't plan to spend much time in your room then it really doesn't matter much. But Disney cruises have some "secret porthole rooms" on both Disney's Magic and Wonder ships. These series of rooms are sold as Category 10, inside staterooms without a window. However, they have a small porthole with an obstructed view. The natural light is a small added bonus, at no additional cost. Ask for 5020, 5520, 5022, 5024, 5522 or 5524. In fact, for families or larger groups it should be noted that 5022 and 5024 adjoin as do 5522 and 5524.
2. Speaking of large families, if you are traveling with a larger family (five or more), Disney and some travel agents will often suggest reserving an expensive stateroom. But this isn't always the most cost effective option. Instead be sure to price booking two adjoining rooms in a lower Category (price). This may be less expensive, and more private for parents. Plus you net an extra, all-important bathroom.
3. Whenever you're booking a cruise you want to consult the onboard map before booking your room. If you are near the elevators, noise from late-night revelers returning to their rooms may keep you up all night in yours. A cabin located directly below a nightclub could make for a fitful night's sleep. For others a room in the front of the ship can mean more problems with seasickness, so if you're prone to nausea a room towards the back may help.
4. If you really would love an upgrade, and who doesn't, as soon as you get on board ask to be upgraded. Even if the ship is booked quite full the ship crew is generally happy to upgrade anyone on a first come, first serve basis. It never hurts to ask!
The Disney experience on land is replicated on sea – and your onboard experience may be even better. From a cast-full of characters roaming the decks, to fabulous food, and dozens of activities you won't have a minute to waste. By using a few of these tips you'll be on your way to a great vacation, with a few extra dollars in your pocket.