Food and Recipes From Around the World: Original Banoffee Pie Recipe
Bananas – delicious. Toffee – delectable. Banoffee – brilliant! This pie that combines bananas, cream and toffee with a cookie crust is one of my favorite desserts that has roots in the United Kingdom. (You might also see it billed as the original namesake – "banoffi.")
The rich, soft caramel toffee topped with sliced bananas was brought to life thanks to Ian Dowding and Nigel Mackenzie, of The Hungry Monk restaurant in East Sussex. The story of how the idea for the pie began changes depending on who is telling it, but Ian has clarified the tale on his website and sums it up ever so wisely – "I didn't invent it – it evolved."
However this delicious combination came to be, I am incredibly thankful. This recipe has many variations thanks to different hands attempting to add their own touches or simply making adjustments based accessibility. The original version has a pastry bottom, but you might see it with a crumbled biscuit and butter base despite Dowding's dislike of them.
The first and traditional recipe uses real cream spiked with coffee granules to top the layer of sliced bananas sitting on top of homemade toffee.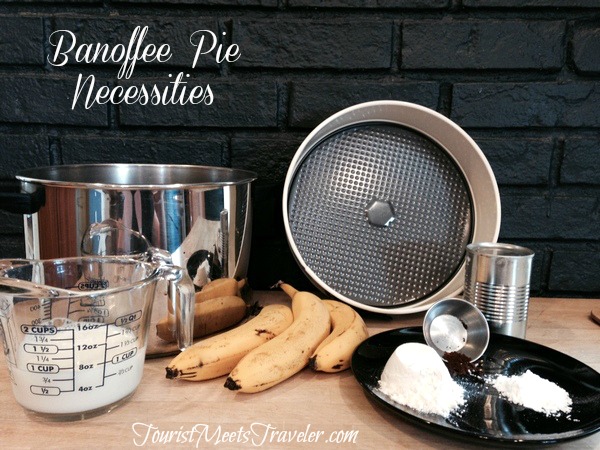 For the Soft Delicious Toffee:
1 large pot
water to boil
1 (or more) cans of unopened condensed milk
1. Fill the pot with water – at least 6 cups.
2. Peel the label and any glue bits off the can (or multiple cans to be saved for future use) of condensed milk.
3. Boil the unopened can(s) of condensed milk for 3 hours.
4. DO NOT LET THE POT BOIL DRY! Add more water to the pot to keep the can(s) submerged.
(A safer way, suggested by Ian, is to use an oven-safe dish and bring the can(s) to a boil on the stove and then transfer the lidded vessel into the oven for 3 hours at 280 degrees F.)
5. Carefully remove cans from the water and let cool. Store any unused cans in the fridge for future use.
For The Pastry (Crust):
Preheat oven to 400 degrees F
1 10 inch flat bottomed pie pan or deep dish oven-friendly vessel (springform pans are perfect and cake pans work well too)
1 and 1/4 cup flour
2 tablespoons powdered sugar
9 tablespoons butter
1 whole egg plus 1 egg yolk
1. Cut butter into the sugar and flour until it becomes a crumbly texture.
2. Mix the whole egg and egg yolk into crumb mixture.
3. Shape dough into a disc and chill for half an hour.
4. Roll dough out to cover the bottom of a flat bottomed pie pan or deep dish oven-friendly vessel.
5. Prick the dough with a fork, line with parchment paper and weigh dough down with dry baking beans.
6. Bake for 15 minutes before removing beans and paper.
7. Cook an additional 5-10 minutes or until it is an even golden brown color.
For the Topping:
1 and 1/2 cups heavy cream
1 teaspoon of instant coffee granules divided
1 teaspoon powdered sugar
4-6 bananas
1. Whip cream, half of the coffee granules and sugar until it begins to hold it's shape.
2. Peel and cut 4-6 bananas when you are ready to assemble the pie.
3. Use leftover coffee granules to sprinkle on top of the assembled pie.
Assemble:
1. Spoon the cooled toffee from the can onto the baked and cooled pastry crust and smooth out into a creamy layer.
2. Place peeled bananas lengthwise and arrange them around the top of the toffee.
3. Dollop whipped cream mixture on top and serve immediately or cover with plastic cling wrap and store in fridge until ready to eat.
*Do not freeze