7 Best Family-Friendly Hotel Pools That Are Totally Cool

One the most underrated vacation factors is the hotel pool. Kids toss their luggage on the bed and jump into their swimming gear, ready to get wet faster than you can say "sunscreen." These 7 best family-friendly hotel pools are totally cool and unique…
Grand Wailea – Maui, Hawaii
This Waldorf Astoria Resort is more than just a pool. It's a pool complex. The location boasts four waterslides, a rope swing, whitewater rapids, a lazy-river pool, caves and a "water elevator" located inside a man-made volcano.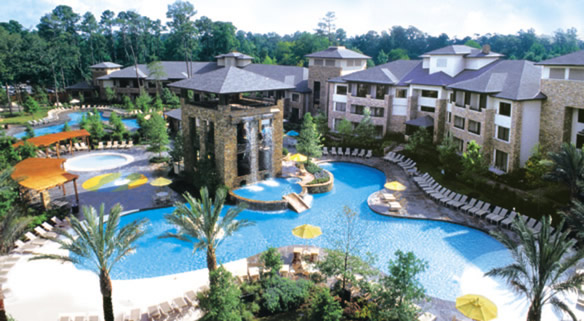 Woodlands Resort – Woodlands, Texas
A 1,005-foot lazy river awaits families at "The Forest Oasis Waterscape™". The complex encompasses family-friendly features, including 5 swimming pools with spas, waterfalls and slides, two 30' double helix water slides, underwater marine murals, and Puffy's Sprayground™ with waterspouts and fountains. There is also a zero-grade entry toddler pool, nightly dive-in movies and s'mores.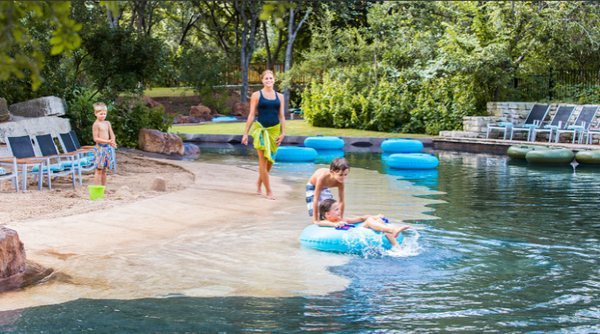 Hyatt Regency Hill Country – San Antonio Texas
A five-acre waterpark awaits at the Texas hotel. Water sports like volleyball, basketball are offered with a zero-entry pool fo beginning swimmers. An adult-only pool and hot tub are also available for some mommy and daddy time. Don't forget the 950-foot Ramblin' River, complete with sandy beach, or the 22-foot water slide. For those older kids, a wave machine will let you surf some waves.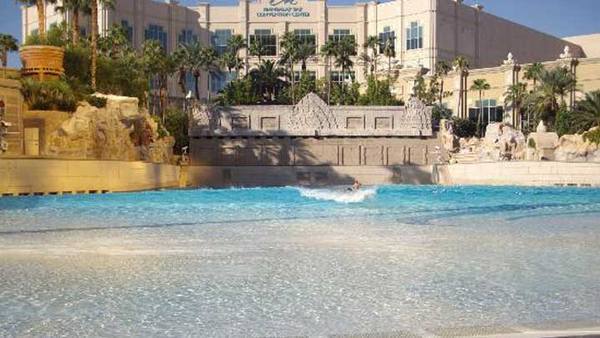 Mandalay Bay Resort & Casino – Las Vegas, Nevada
Located on The Strip, the resort has lazy river and a large wave pool that is fun for both kids and adults. Swells can reach 6 feet, but the river is far more tame. Other pools to party in are available and will entertain the entire family.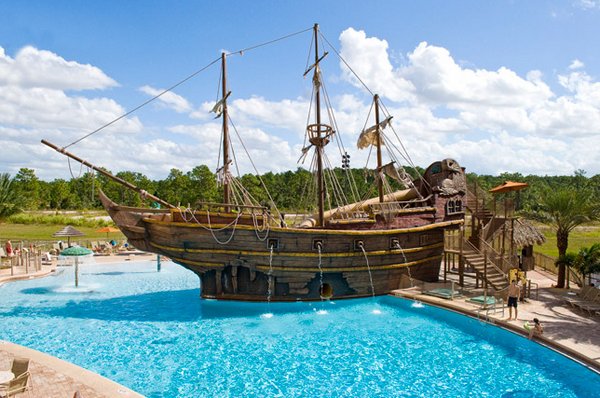 Lake Buena Vista Resort – Orlando
Would your kids love to slide through a pirate ship or get soaked by shooting water cannons? The Pirates Plunge Pool at the resort will ideal for those seeking a new adventure. The ship sits in a zero-entry pool with various sprinklers that will entertain the smaller swimmers. Jacuzzi-style hot tubs, tumbling waterfalls, poolside loungers and hammocks will treat the adults to a relaxing soak.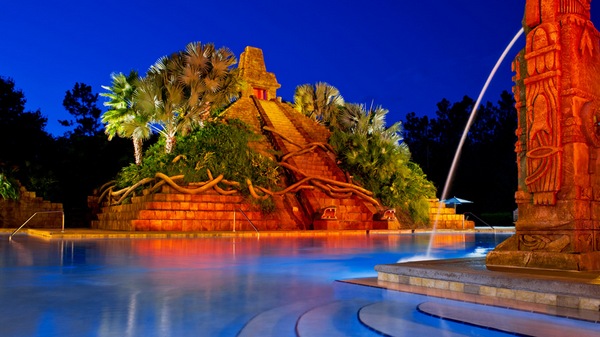 Disney's Coronado Springs Resort – Orlando, Florida
"The Dig Site" features a massive pool with a waterslide that winds through the foliage and around a giant Mayan temple. You will also find whirlpools and a shallow pool for the tinier tots.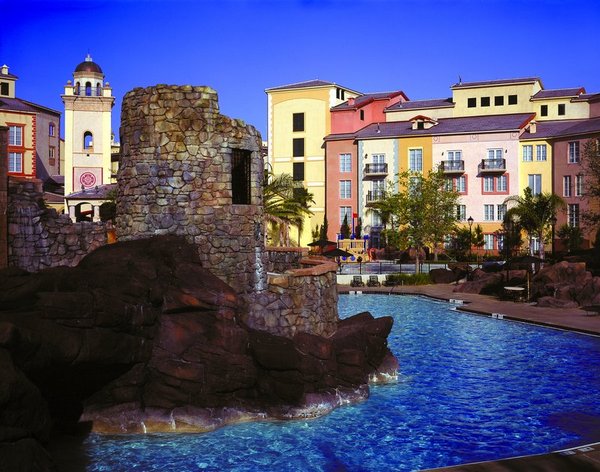 Universal's Portofino Bay Hotel – Orlando Florida
Two "quiet" pools await those wishing for a more relaxing experience. However, the popular draw is the sandy shore pool with a Roman acqueduct-style waterslide.