Food Trucks Gourmet to Go: Orange County, CA – A Cheap and Fun Way Eat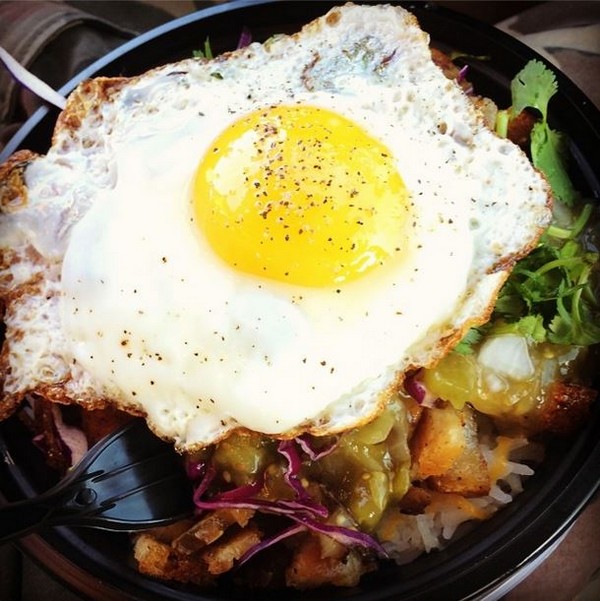 Several years back, there was an up rise of talented cooks and chefs in Orange County who decided to put their culinary creations on wheels. The food truck craze had already been established in cities such as New York, San Francisco, and Los Angeles and was finally making its way to the OC. This southward movement was led by the Kogi Truck which was hitting its peak in popularity at the time. Californians were lining up to get their hands on Kogi's Korean fusion burritos. Thereafter many trucks followed by living out their big dreams in very small kitchens. Out went the stigmatized notions of "roach coaches" and in came the concept of gourmet food mobiles.
Being a loyal fan of food trucks, I have had my fill of mobile eats over the years. From intimate gatherings at isolated business parks to hyped up food truck festivals, I've been there. I remember one of my first experiences with food trucks one late night in Irvine. A new food truck by the name of Dos Chinos has just popped up on the scene dishing out Asian-Mexican tacos and burritos. Back then, both of the "chinos" were cooking up food every night in a plain white food truck. They had tacos with tender ribeye steak with chorizo rice and fried egg, fresh shrimp with pineapple salsa, and a creamy curry chicken. While they were all delicious, my heart belonged to the Vietnamese pork belly which was well seasoned and fried crisp. Throughout the years, Dos Chinos has been featured in many newspapers and television series; the owner, Hop, has even competed on the Food Network's Chopped.
At the Orange County fair last year, I ran into another truck that has now become a favorite of mine. The Dogzilla Truck used to come as an afterthought for me. I would see it at various food truck roundups but never got around to trying it until that day at the fair. The Dogzilla dog is certainly "not your typical wiener." It has a beef frank topped with grilled onions, avocado, Japanese mayo, teriyaki sauce, furikake, and bacon bits served on a sweet Hawaiian bun. It may sound odd but it's a tasty combination of flavors that is unlike any hot dog you'll ever have.
Before the Playground 2.0, there was the Playground (think restaurant, not jungle gym); and before the Playground, there was the Lime Truck. The Lime Truck's mission statement was and still is to create delicious food using fresh, local, organic ingredients and the quality of their ingredients shine through their dishes. I recall having a very memorable mound of fries topped with slow roasted pulled pork, crema, guacamole, and chipotle honey slaw. And I'm not the only one who recognizes the Lime Truck's awesomeness. The truck's chefs have been featured on many media outlets and even took the crown on the second season of The Great Food Truck Race on the Food Network.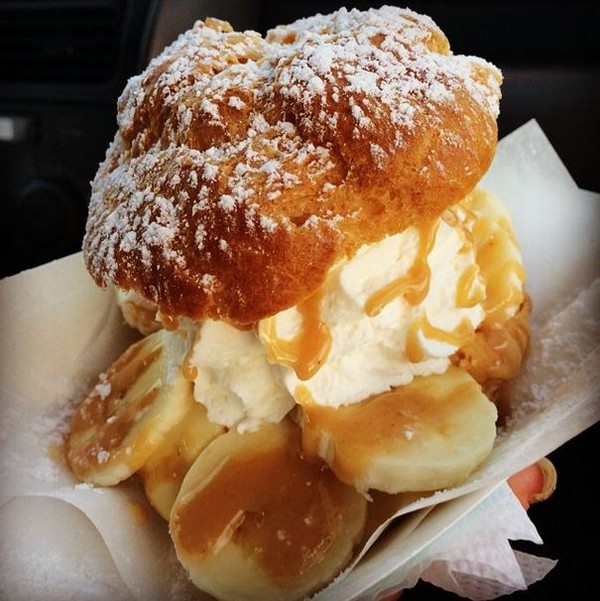 If you're ever in Orange County, food trucks is a cheap and fun way to go for some great eats. You can search for a food truck roundup to try multiple trucks at once. For example, there is currently a roundup every Tuesday in Irvine and every Thursday in Huntington Beach. Keep in mind that food truck roundups change all the time as they may change locations, days, and time. A quick Google search will give you the most up-to-date information. Below are a few more OC trucks that are worth a try.
Burnt Truck—gourmet sliders and comfort food.
Bakery Truck—giant cream puffs and other baked goods.
Crepes Bonaparte—savory and sweet crepes.
Soho Taco—gourmet tacos.
GD Bro Truck—unique take on burgers.