8 Free Essential Travel Apps – Enrich Your Vacation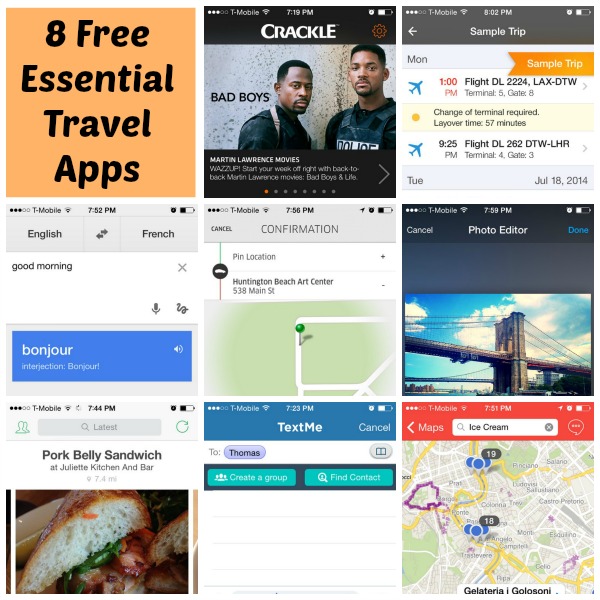 Remember those days of unbearably long flights watching the airline's new(-ish) reel of pre-selected movies? How about when paper maps served as life savers when your spontaneity got you a little lost? In the past decade, technology has given the boot to the old and welcomed a downpour of new travel conveniences that have revolutionized how we explore the world. Smart phones and tablets are now the gateway to traveling, offering services for everything from communication to transportation. The list of apps currently taking over the world of travel seems endless. So how does one sort through all the travel apps offering virtual travel guides, food recommendations, and language translations? Here is a great place to start as we explore the top apps for travel.
Crackle – Whether you're flying thousands of feet in the air or zooming through the countryside in a train, there is always the issue of how to pass the time. In comes the Crackle app that provides you with full-length movies and TV shows absolutely free.
Uber – So you've arrived at your destination and need a cheap transfer to your hotel? Uber's got you covered. Uber employs local drivers who have the appropriate qualifications to get you safely from point A to point B. You can also get instant ETAs and track your driver's progress, all for a fraction of the cost of a taxi.
Text Me! – It's always a thrilling moment when you're all settled in and ready to explore the city, but don't forget to check in with friends and family. Avoid those pesky roaming charges by downloading the Text Me! app. Using this app, you can text and call home for free.
Foodspotting – Globe trotting got you hungry? Foodspotting is your visual guide to the best eats surrounding your current location. Salivate through the stream of delectable photos, find a local restaurant, and eat up.
Photo Editor by Aviary – Traveling is a time to create memories and photography is the best way to capture those memories. With Photo Editor, you can snap photos and enhance them with powerful filters and unique stickers and frames. Then, share your professional quality photos via Instagram, Facebook, email, and more.
Google Translate – When it comes to free translation resources, Google can't be beat. Google Translate offers language translations between over 80 different languages. Translations can be displayed or spoken aloud which is tremendously helpful when pronouncing accents. Language packs can also be downloaded and accessed offline.
City Maps 2Go – As advanced as technology is, there will be moments of data disconnections and others when accessing the web is simply too costly. Instead, you can download up to five free maps on City Maps 2Go ahead of time and access them offline at any time during your travels.
WorldMate – Don't want to deal with too many apps? Well, there's also an app for that! WorldMate offers a myriad of travel services in one place. Plan, book, and manage your trips all in one place with features such as an itinerary manager, weather forecasts, currency converter, and more.
Now that apps have made traveling more convenient and seamless than ever before, your new best travel buddy will likely be thin, sleek, and WiFi accessible. Do you have some go-to travel apps that you can't live without? Post them below.