Best Air Shows for Kids in the Country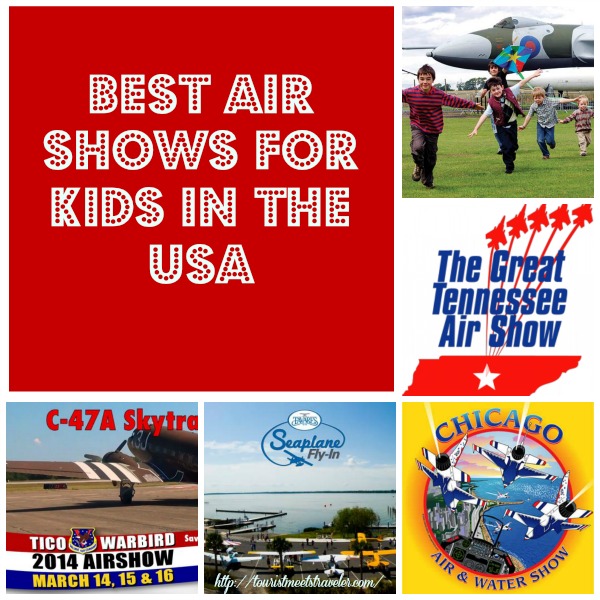 There are hundreds of air shows around the country every year, with everything from war planes to local flight enthusiasts to acrobatic themes. With so many choices, it can be hard to narrow down a list to the very best, so instead lets focus on the shows that are best for kids. Children have a lot of natural curiosity, and planes are a great this to be curious about. If your children are interested in planes, or enjoy and interesting day out, try to plan your next vacation around one of the country's great air shows.
These air shows take place all over the United States and each one is uniquely suitable and exciting for kids to watch.
Chicago Air and Water Show
The Chicago Air and Water Show is so popular because it takes place right in the heart of the city, which happens to be along the shores of Lake Michigan, just north of Navy Pier. Planes, helicopters and boats buzz by viewers, acrobatic flying troupes perform, skydivers jump for precise landing and war planes of every type cruise the skies. This show is perfect for children because there are so many things to see and do in addition to watching the planes flying in the show. Pack a lunch and hang out at the beach for the day, or head over to the free Lincoln Park Zoo after kids have seen enough planes for one day.
International Seaplane Fly-In
If you happen to be vacationing in New England in the fall, the International Seaplane Festival is worth watching. Now in its 41st year, residents and visitors from all over the world sit back and marvel as seaplane after seaplane lands on the waters of Moosehead Lake in Greenville, Maine. All sizes of seaplanes participate in the event, and the number of planes grows every year as more pilots hear about the fly in and fly in for the weekend. If you miss the planes flying in, stick around because all of them use the lake as a runway to take off too!
Tico Warbirds Air Show
If there are military buffs in the family, they are going to love the Warbirds Airshow which takes place in Titusville, Florida every year. Children are drawn to tanks, warbirds and other large forms of machinery, and the warbirds fill a museum during the year for everyone to enjoy up close. On the weekend of the airshow, the planes and their pilots take to the sky to show us what their wings are capable of.
Great Tennessee Air Show
The Great Tennessee Air Show is no ordinary air show, but one filled with acrobatics for solo and group competitors. The flight patterns and maneuvers are fun for kids to watch, and get more and more daring every year. After a day spent watching the many teams compete, kids will have a hard time picking just one favorite.