Best Thanksgiving Vacation Destinations for Every Desire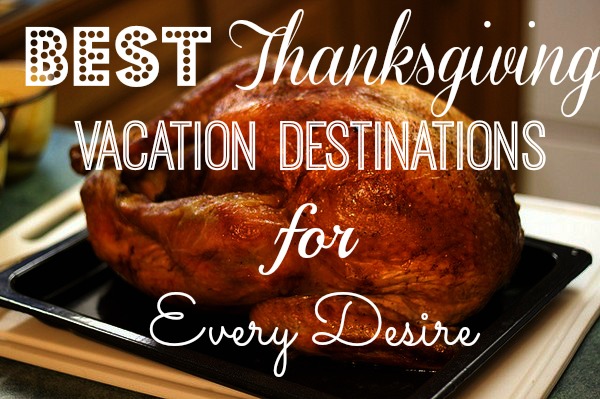 If you are looking to make your holiday an adventure, these Thanksgiving vacation destinations will be sure capture the spirit of the day …and let you escape in-laws.
Best Thanksgiving Atmosphere
Colonial Williamsburg – It's not just a day of thanks in Virginia, it's a three-day event – Foods & Feasts of Colonial Virginia running November 27–29. For a true experience, go to Berkeley Plantation, in nearby Charles City. Legend has it that is where the first Thanksgiving took place in 1619.
Best Transition to Christmas
Baltimore – Soak up history and enjoy the upcoming Christmas hype by walking down 34th Street in the Hampden neighborhood. Enjoy the German Christmas Village in West Shore Park at the Inner Harbor Hit. Get reservations at Bluegrass Tavern for a delicious smoked turkey dinner with all the fixins or enjoy a buffet at Grille 700 at the Baltimore Marriott Waterfront.
Best Snowy Thanksgiving
Colorado – Breckenridge and Steamboat Springs are two popular destinations for travelers. Enjoy the Festival of Trees and the Chocolate Tasting Festival at Steamboat Springs. Or, hit the slopes for discounted skiing in Breckenridge, before stuffing yourself with a feast at Sevens.
Best Unique Destination
New Orleans – One word …Turducken. It's a chicken inside a duck inside a turkey and it's the Big Easy summed up in one flavorful dish. You can get this creation that sounds like a medieval washing machine at K-Paul's Louisiana Kitchen. If you want a different New Orleans option, enjoy La Provence, Whatever you decide to eat, make sure you hang out at Decatur Street near Café du Monde and Jackson Square. It's the place to catch the Bayou Classic Thanksgiving Parade.
Best Warm Weather Escape
Florida – It may seem like an obvious answer, but you can't pass up the chance to spend Thanksgiving with Mickey Mouse. It's not quite peak season, so there are deals to be had. Disney parks will also serve up special holiday menus on Thanksgiving Day – check Be Our Guest Restaurant and Tony's Town Square Restaurant. Universal Orlando celebrates the holiday at three of their on-site hotels: Portofino Bay Hotel, Hard Rock Hotel, and Royal Pacific Resort.