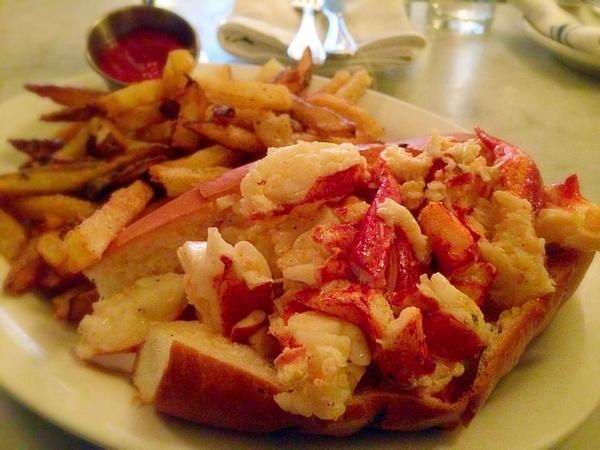 Boston is home to the Freedom Trail, the Boston Red Sox, and some of the freshest seafood in the U.S. On a chilly weekend in October, I got to experience this wickedly awesome city for the first time. I toured the oldest ball park in America, strolled through Dunkin Donuts-lined streets, and discovered where the Boston cream pie originated. Above all else, the best sensual experience I had came from plates filled with one of the most cherished of all crustaceans—lobster.
I began in the North End, Boston's Little Italy, where I had my first lobster roll. Every Bostonian I know directed me to Neptune Oyster, a tiny eatery jam packed with hungry patrons. At the bar, I enjoyed a crisp bellini as I waited for my lobster rolls. Neptune Oyster serves their lobster rolls two ways: hot with butter or cold with mayo. I didn't come all the way to Boston to settle so I tried both. It is amazing how they can pack so much lobster meat into one roll. Calling them generous would be an understatement. Whether you like your lobster roll cold or hot, you just cannot go wrong with Neptune Oyster. They were both exquisite.
That night, I returned to the North End for a second helping of lobster, but this time, I headed to Giacomo's. From what I hear, there's always a line at Giacomo's. There's no getting around it. It was no different that night so I waited nearly 45 minutes for a table. And guess what? Although there is no sense of personal space in this restaurant, it was all well worth it. The calamari appetizer literally melts in your mouth; it's incredible. For the main course, the lobster and shrimp fra diavolo is a must try—fresh seafood in a spicy tomato sauce over homemade fusilli pasta. For amazing Italian food in Boston, you can't go wrong with Giacomo's.
I can only imagine what my cholesterol level was at by the time I was packing up to leave Boston. Still, I couldn't head back to California before having my last fill of lobster. So I took a short walk to Island Creek Oyster Bar, a trendy restaurant also known for their lobster rolls. This time, I opted for the lobster roe noodles. I'd be lying if I said it was a tough decision. Lobster noodles with braised short rib, grilled lobster, mushrooms, and pecorino cheese? I was sold. This dish turned out to be the highlight of my trip and one of the best things I've ever eaten. The quality ingredients came together to create a very rich and extraordinary plate. Take my word for it. The lobster roe noodles at Island Creek Oyster Bar is not to be missed.