Cape Breton Island Memories of Nanna's Oatcakes – Recipe Included!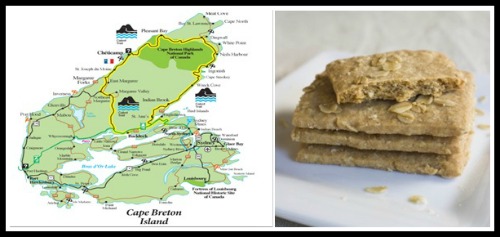 Taste and smell are two senses that are deeply connected to memory so it's not surprising that we often associate certain foods with special memories – food and nostalgia go together like fish and chips! A memory I cherish deeply of my childhood in Cape Breton Island, Nova Scotia, is of being the lucky grandkid first at the table when my "Nanna" took the oatcakes out of the oven.
Those freshly baked oatcakes with their delicious smell wafting through the house were just asking to be eaten. Although it's not a normal practice off the Island  try smothering some hard butter on that warm treat and you'll never eat oatcakes any other way nor will you eat anything better. My mouth is watering as I type this.
As visitors quickly find out when they arrive here on the Island we have our own vernacular, well let's just say we at times use our own language specific to individual communities and even families.
This unique slang makes me think of "Nannas" oatcakes.
Why?
Have you ever been here on the Island waiting to purchase oatcakes and overheard the customer in the line ahead ask for a scone and point to an oatcake? At this point if you were to look at any of the surrounding locals and watch their expressions you'd know they're saying to themselves "that's a tourist."
Why, because in Cape Breton an oatcake is just that an oatcake, a scone is altogether different. A scone is what someone from Cape Breton would normally call a tea biscuit. Now the same joy described above I also associate with the memory of getting that first hot tea biscuit out of the oven. Oatcake, tea biscuit/scone bring them all on, hard butter included!
Here is a simple recipe that I've used to make oatcakes for friends and family.  The feedback has been nothing but positive.
Oatcakes
1 1/2 cups white sugar
2 tsp. brown sugar
4 cups of flour
2 tsp. of salt
2 tsp. soda
6 cups of rolled oats
1 lb. of shortening
1/2 cup of butter
1/2 cup of cold water
Stir together flour, sugars, salt and soda; add to oats and mix well. Add soft butter and shortening, mixing until absorbed; do not over mix. Add water and mix for one minute until water is absorbed; do not over mix. Roll out 1/4 inch to 1/2 inch thick. Cook at 350 degrees Fahrenheit until lightly brown.