Christmas Treat Recipe: Marshmallow Peanut Butter Chocolate Snowman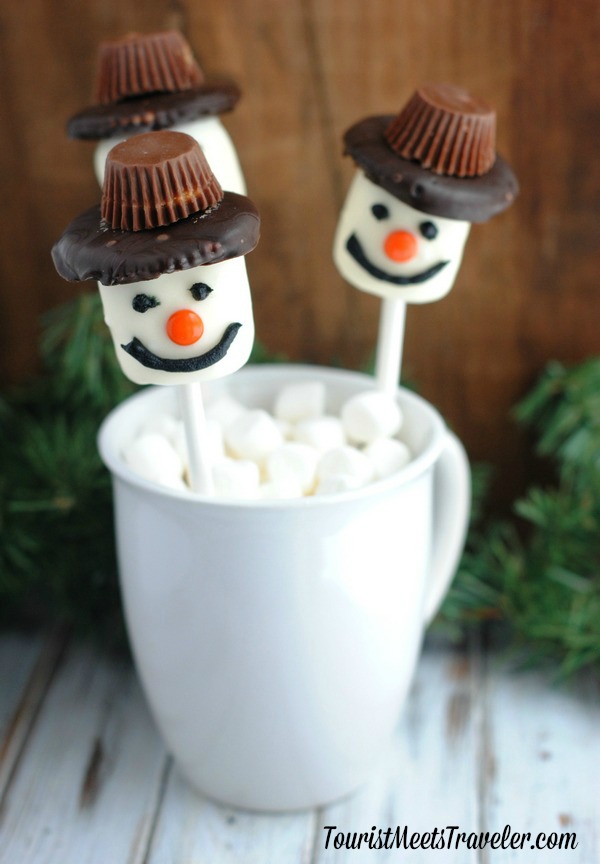 It's the holiday season and when we aren't on the road to visit family or indulge on a vacation, we love to create fun treats that will wow a crowd. This Christmas treat recipe, Marshmallow Peanut Butter Chocolate Snowman pops, will be fun to do with friends and family of all ages.
You Will Need:
10 large marshmallows
10 Wilton candy sticks
12 oz. white Wilton candy melts
Mini orange M&M's – you can find these in the baking aisle OR in the checkout lanes at major retailers
**Oreos for his hat (I was completely out of Oreos I dipped Ritz crackers in chocolate)
Mini Reese's Peanut Butter Cups
Wilton black decorating icing
Wilton plastic icing tips (located right next to the Wilton icing tubes)
2-3 short mugs or glasses (to stand the snowmen up in after decorating)
Directions –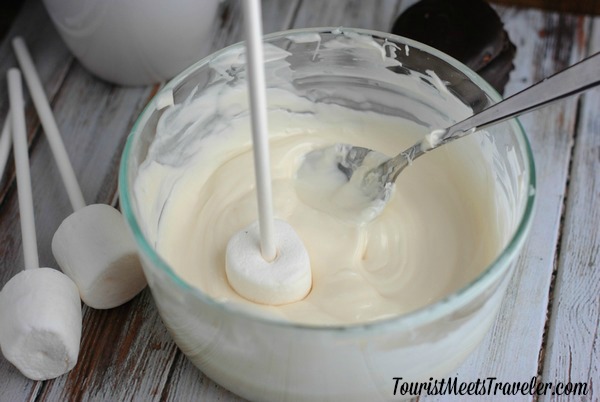 Insert 1 candy stick into each marshmallow.
 Pour the candy melts into a glass dish and heat in the microwave in 30 second increments. Make stir to stir every 30 seconds until melted. Let it cool a few minutes before dipping the marshmallows.
 Dip each marshmallow one at a time in the white chocolate (see photo). Let the excess chocolate drip back into the bowl. Give each marshmallow snowman a nose and stand him up in the short mug/glass to set. Repeat with all the marshmallow snowmen.
Carefully remove each Oreo top from the cream filled bottom – you will need 10 tops.
Once your snowmen are all set, use a plain plastic tip and the black icing. Squeeze a small amount on top of the snowman's head and give him a hat using 1 Oreo top per snowman. Repeat with all the snowmen.
Unwrap 10 mini Reese's peanut butter cups. Squeeze a small dollop of black icing on the top of each peanut butter cup and turn it upside down on top of the Oreo hat rim. Repeat with all the snowmen.
Stand them all up in the mugs/glasses and let them set in the fridge for 15-20 minutes.
**Makes 10 servings. 1 Snowman Marshmallow Pop = 1 serving.
*If you do not have Oreos and would like to use the chocolate covered Ritz crackers as show in the photos you will need –
10 Ritz crackers
12 oz package of Wilton dark chocolate candy melts.
Parchment lined baking sheet or plate
Directions –
Heat 6 oz of the dark chocolate melts like you did the white chocolate melts above.
Dip each Ritz cracker one at a time using a fork to lift out and letting that excess chocolate drip back into the bowl. Place in the parchment paper to set prior to putting on the snowmen.