Cruise Travel: Helpful Tips To Help You Watch Your Weight and Enjoy The Great Food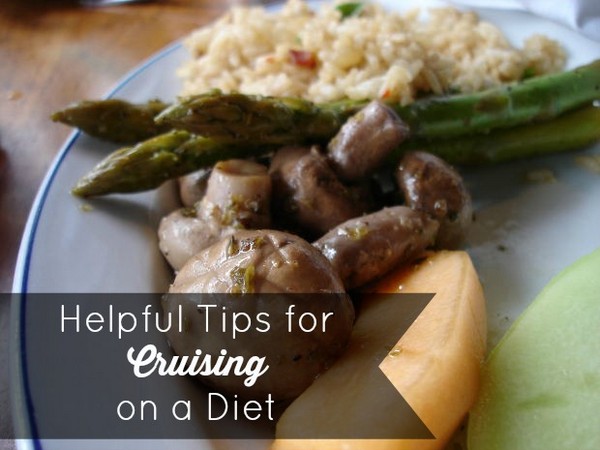 The last place you may want to be while watching your weight is on a cruise ship. With endless buffets of food, delicious specialty restaurants and bottomless beverages it's easy to scrap your diet and dig in. But you may be surprised to know there are many healthy options available while cruising. You may need to do a little bit of advanced planning but it's certainly possible.
Avoid the Buffet Lines
This may sound like it violates the very purpose of a cruise but when you're presented with dozens of options you are more likely to make bad choices. Instead opt for a sit down meal in one of the ship restaurants. You can ask for the options that are lower in calories. You'll also be much more likely to eat slower and feel full faster. You also will get one meal (and dessert) choice instead of several! You also an request a half portion of anything.
Buffet Eating
If you do decide to hit the buffet you'll need to exert self-control. Cruise lines are making it easier for people to have options that are more diet friendly. There are options like a spa menu or lower calorie offerings notated on many buffets. Instead of piling your plate sky-high, build a plate with a few choices that represent a normal size meal. If you're feeling extra hungry, fill up on vegetables and choose fruit for a dessert instead of the chocolate cake.
Don't Complete Deprive Yourself
You are on vacation after all! If there's a special meal you're really looking forward to, like a steak dinner plan the rest of your meals for the day to balance out the one higher calorie offering. If you consistently deprive yourself you may walk away from vacation feeling like you've really missed out! It's very possible to eat well without going overboard.
Skip the Snacks
Not only are you presented with never ending meals but you'll also find plenty of snack options on board and in port. Sure that afternoon ice cream cone sounds like a great idea, and a midnight pizza run may seem like a good idea at the time but you'll regret it later! If you want to snack stick with high protein, low calorie options to keep you full without adding loads of extra calories.
Watch What You Drink
Along with massive quantities of food, cruises are notorious for free flowing beverages. A 12oz beer will set you back 150 calories while a Long Island Iced Tea can have over 500 calories. Think a Mai Tai would be great? At 600+ calories you may think twice! It's easy to see how just a few drinks could really add up to lots of empty calories. Avoid purchasing an all-you can drink packages, they may seem like a great deal economically but you're far more likely to indulge in these types of drinks if you feel the need to get the most out of your purchase. Treat yourself to a drink a day and stick with the "skinny" versions.