"Disney Wonder" Travel Tips: The Perfect First Cruise Experience Made Easy #DisneyCruise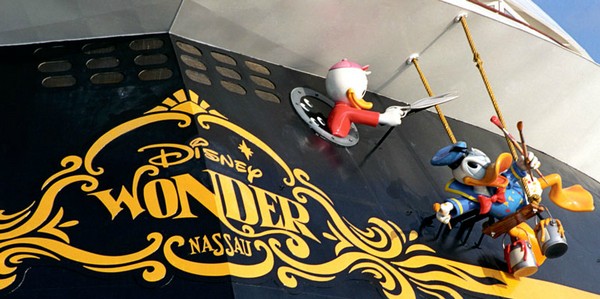 Disney Cruise Line's second ship of its fleet entered service in 1999 and weighs 83,000 tons. With approximately 1000 crew members ready to serve up to 2,700 passengers, the Disney Wonder offers three pools, an adults-only area, and several dining options. TMT recently hopped on board a 2-night cruise on the Wonder, sailing out of San Diego with no ports. This quick little cruise was a cost-effective way to try out Disney Cruise Line without committing to a long trip.
While my husband and I have cruised before with Royal Caribbean, this would be our seven-year-old daughter's first experience with cruising. This was our chance to test the waters (no pun intended) and see if she enjoyed the experience. If so, we'd feel more comfortable booking a longer trip.
When planning our travel, I looked into embarkation and disembarkation for Disney Cruise Lines. I had heard many great things about the disembarkation process with Disney Cruise Lines, specifically, so I went in hopeful. They did not disappoint! Most cruise lines have you wait in groups and the process to leave the ship is painstaking. True to the word of many who had sailed with Disney in the past, the disembarkation process was a dream! They stagger breakfast times and allow you to leave the ship any time once the ship clears customs. Now, we didn't stop at any ports which made the process even faster for travelers, but it seems clear that no matter where your sail with Disney, they have this simple process down. Check out the tips below for disembarkation.
Getting to the ship was a little more difficult. We went out of San Diego, where they were in the middle of construction in the surrounding areas. Things were not clearly marked and traffic was horrible. If the location you are sailing from has nearby parking, it is wise to choose that option. Then take a taxi or walk to the port. Likely, no matter where you are leaving from, traffic on the day of a cruise leaving port will be a bear. We wished we had done that, but didn't realize until after we'd already gotten stuck in traffic. The construction certainly contributed to the delay, but they did have signs posted to expect traffic on days a ship is departing, so it is something to take into consideration. Also, be sure to take the time to complete all the check-in paperwork that Disney sends prior to your cruise. Have everything ready, not packed away, as you'll need to have it easily accessible.
It felt wonderful once we were able to get to our stateroom which was very nice. The veranda was a great choice because it was great to have the ocean breeze coming through the room, and to have the chance to sit outside and relax. Our host was amazing and was always on hand to answer questions and provide great tips for us. Though the ship is one of the oldest in the Disney fleet, it was very clean throughout. We immediately headed out to the pools. With two kid-friendly pools to choose from, and one dreamy adults-only pool, there is plenty of opportunity to get a little swimming in, or relax by one of the lounge chairs to watch the kids swim. The best and most popular pool, in our opinion, was Mickey's pool. With the main area of the pool in the center, two shallow areas that doubled as Mickey's ears, and an area to the side for toddlers and little ones to play in, there was something for everyone. After trying out Mickey's Pool, we decided to inspect the other kid's pool, Goofy's Pool, which is 4 feet deep throughout. Parents can feel safe with the kids swimming while they lounge as there is a lifeguard literally right at the edge of the pool that constantly kept his eyes on the pool and never took them off. He paced back and forth never taking his eyes away from the pool. That was really nice and comforting to parents. While the adults-only pool was gorgeous, I didn't take a dip, opting to swim with my daughter instead. Next time, for sure! I did, however, get over to the adult area to check out the amazing Cove Café lounge. The crew is ready to help make anything you might desire. Rather than looking through all of the options, I went in and just asked for something really strong, with a little vanilla flavor, using non-fat milk. I was served the BEST coffee ever. It was perfect. The lounge is so nice and cozy. There is a tv playing and ample comfy seats and couches for those who want some quiet time. Take a book and enjoy the comfort of a nice quiet area, with delicious coffee and a crew that is happy to make anything you'd like!
Deck 9 hosts all of the pools, the spa, an arcade, sports area, and many opportunities for a quick bite. Goofy's Galley, Pluto's Dog House, and Pinocchio's Pizzeria are all located on deck 9 and all had tasty quick bites suitable for holding you off until dinner. We chose the early seating for dinner, arriving at 5:45. The first night we ate at the Animator's Palette, and the second night at Parrot Cay. On the average, we waited about an hour to get our food from the time we sat down. So it is wise to eat some snacks in the afternoon. The food at both restaurants was good and they offered several options, allowing them to please everyone's dining desires.  The children's menu was full of options as well, and our server always brought out a yummy treat for our daughter after dinner. Dining on a cruise should be an experience, so plan to sit down and enjoy all of the options.
One recommendation is to book activities prior to your cruise. Disney is great about building up the excitement prior to the cruise by sending all of the great activities you can schedule. I initially wanted to book a massage at the spa before our cruise so that it would be set in advance. I decided to wait until we were onboard because I was unsure about what we'd be doing and wanted to make sure I had ample time to enjoy the service and the spa during a time when my daughter was doing one of the kids' activities. I should have taken advantage of the opportunity to book activities earlier on because there were so many great massage options. Deciding to wait until I was on the cruise was a mistake because they were quite booked so the time options were limited at that point (also as it was such a short cruise, there was only one full day at sea) and the only available time slots were those that conflicted with other plans we had.
There were many family-oriented activities, as well as planned character visits. There are two shops that are right across from one another, one with more collectible, higher-end items, and the other with the typical Disney gift store items. There is a character-themed show, a movie theatre, and a couple different options for those wanted to hear music or to dance. There are several great activities for kids that allow them to explore and have fun. Disney allows you to save time and register your child before your cruise so that they are in the system and can begin to take advantage of all the fun without having to wait to get them registered. While it isn't a lengthy process, they do want to ensure safety so it is an important task. The good thing is that it is a task that can be done beforehand.
You will receive a "Key to the World" card for each member in your party. Disney even takes pictures prior to giving the cards out, so they can match the card to the person while on board if needed. Another great safety feature…because this Key to the World doubles as your card to charge items not included in your cruise package such as gifts in the gift shops, alcohol, etc. Disney allows you to disable the ability to charge on any card or for all of them if you prefer to pay cash for items. The Key to the World card is also the key to your stateroom.
Our cruise was obviously not the norm, given it was a quick turnaround cruise with no ports. So, because of time, there were many things we were not able to experience. However, it was a perfect way for us to experience a Disney cruise that left out of a city close to us at a reasonable price. Now that I know my daughter does enjoy cruising and had no trouble with feeling seasick, we will plan a lengthier Disney cruise in the future. We found this cruise just by chance while looking at the Disney Cruise Line site. For short trips, repositioning cruises and other unique and discount opportunities, visit the sites of different cruise lines often. You never know what you'll find.
While we plan to enjoy another, lengthier, Disney cruise, we will likely try out another ship (depending on ports) next time so that we can enjoy a different experience. Maybe we'll end up working our way through all of the ships!
So, based on our experience, here are some tips we can share.
Keep the Key to the World card somewhere safe and take it with you at all times. The best bet is to get a lanyard so you can wear it and have it accessible everywhere you go.
Be sure to keep track of charges you are making to the card. You don't want any big surprises on the last day when you receive your bill noting all charges. Thankfully Disney does put limits on charging ability, but it is still easy to get carried away and spend more than you planned if you are not careful.
That that Key to the World card with you upon disembarkation as you will be asked to show it at the point before you leave the ship. They check each and verify the picture matches the card before you can leave the ship. GREAT safety measures here. They allow you to keep the card, which my daughter loved, but be prepared when in line to leave to have it handy. Many folks had to get out of line to find where they packed away their cards.
Plan your parking ahead of time. Check for local parking and transportation to your ship rather than parking closer. There are plenty of long term parking options, including local airports (depending on where you are leaving from).
Have a light snack between lunch and dinner. Remember, dinner is an experience, so you won't be in and out in ½ hour. Enjoy the time talking with fellow guests, family, and friends and take your time enjoying the meal. Don't eat too much before dinner…save room for dinner and, of course, dessert!
Book activities prior to your cruise. While lengthier cruises offer more days to choose from, allowing the spa to accommodate every schedule, why not book early and get the time you'll want and the service you desire ahead of time. You'll have an envelope waiting for you upon arrival to your stateroom, confirming your spa reservation. They have some great services to choose from.
Be prepared and take advantage of the option to complete documents and check in prior to your cruise. It is one less thing to worry about and you will ensure you have everything you need.
Be sure that you read the requirements for documentation far in advance. While our trip didn't require passports, we were allowed to have a driver's license and state-issued birth certificate. While we had our daughter's state-issued birth certificate, mine was a hospital-issued copy. I had to order mine from the state/county office. Good thing I did this early because there can always be delays in getting paperwork. So, pay close attention to the very specific requirements and call in advance with any questions. They do very carefully check all of your identification and will not let you on board if you do not have the proper identification.
Lastly, remember to bookmark the Disney Cruise Line site and check back for these fun little trips or special packages they have. If you are open to repositioning cruises, you can get a better deal as well. Check often, and you'll likely find your perfect cruise!