Fresh Photos of the Wizarding World of Harry Potter Diagon Alley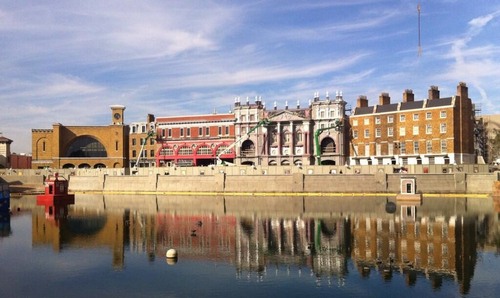 Hold on to your broomsticks. The scaffolding that has been blocking the view of the Wizarding World of Harry Potter's Diagon Alley expansion has come down. The reveal is, well, frankly awesome for fellow Potter fans who have been anticipating the add on.
New images of the now unobstructed view of what appears to be Kings Cross Station (far left) and Grimmauld Place (far right) have hit the net. Photos snapped and shared by @UORBuzz on Twitter are truly a fantastic share, but the photographer assures fans that "People really have to see it in person to even fully understand how incredible it is!"
The expansion is due to open "summer 2014" but we have heard many rumors that we could see the expansion operational as soon as June. You can read up on the evidence and possible slip of the tongue by Steve Burke, President and Chief Executive Officer of NBC Universal at Wizarding World of Harry Potter Expansion to Open Early.
If we compare these new buildings to the concept art – found here – we can deduce that the Knight Bus will be sitting in front of the grey building separating Kings Cross and Grimmauld Place. Hypable states that there is a possibility that the shrunken heads seen in the films will be on the bus and will quip lines at you. This news came from a casting call posted by Universal Orlando looking for people with a "British or Caribbean accent."
Then, behind the same building and down an alley, we should find a giant fire-breathing dragon astride Gringotts! (Yes, it will actually breathe fire according to the buzz. That will be interesting on a Florida summer day.)
We are due to have more concrete information on January 23rd during a live webcast which will be hosted by members of the Universal Creative team and James Phelps (Fred Weasley)!
Stay tuned!