Ski Resorts Offering New Extreme Winter Sports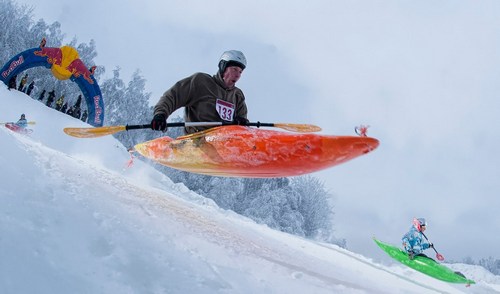 Fresh snow on a mountain calls out to those who love to ski. The average snowboarder spent 11 days indulging in their favorite pastime last winter. This winter, I decided to go for a tropical vacation. I am more of a sit in the lodge and have a drink kinda gal anyway. However, some new winter activities that pair summer water sports with snow are insanely tempting.
If you are in the market for challenging yourself on the slopes, there are three new winter adventures that will satisfy the need for a new thrill. You won't miss your paddles and boogie boards with these new experiences.
Snow Kayaking – It is exactly like it sounds. Instead of battling rapids or gliding across some serene waters, you will strap yourself into kayaks and launch yourself into a snowy banks and bumps. The twisted version of sledding is amped up by the wax on the bottom of the vessel. It is an extreme sport and very few resorts allow it, but a favorite place to try this hybrid sport is Monarch Mountain in Colorado. After you conquer the slope, you will finish by skimming across an icy pool.
Ice Sailing – If you are a fan of windsurfing, this slightly wacky new combo will be a truly unique experience. While wearing ice skates or strapping on a snowboard, glide along an frozen surface while your sail or kite catches the air to propel you along. If you want to really test your skills, join St.Ignace's Ice and Snow Festival in Michigan. They host the sport's world championship races.
Airboarding – Boogie boarding meets sledding in this extreme sport. Cruise down mountain slopes on an inflatable board that has you flying belly side down. Record speeds have hit the 80 mph marker. You can try this out at Hoodoo Ski Area in Oregon.
As always, consider safety measures and how much of a challenge you are up for. These activities aren't for the faint of heart.