New Wizarding World of Harry Potter Diagon Alley Expansion Details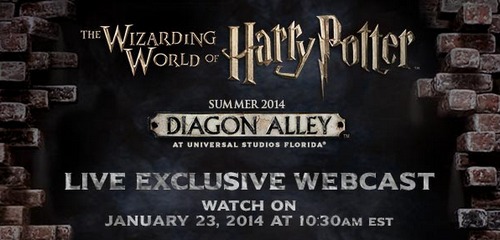 I sat on bated breath all morning waiting for the webcast revealing new details of The Wizarding World of Harry Potter Diagon Alley expansion. I had on my Harry is My Homeboy shirt and sat memorized waiting for the clock to tick down so I could revel in the spoils on the information and pass on to you fine readers.
Many questions have raced through my mind since the confirmation of the expansion. Several were answered and one in particular was answered before the webcast even started. The page counting down to the webcast featured a few pictures that had mere teasers, but one detail about the Hogwarts Express…
I had been wondering how the train connecting the two areas in separate parks would work in regards to tickets. First, it should be noted guests will need a ticket for each park or a ticket that allows you venture from Islands of Adventure (location of Hogsmeade) to Universal Studios (location of Diagon Alley). The Hogwarts Express travels from London's King's Cross Station in Universal Studios Florida to Hogsmeade Station in Islands of Adventure and requires a Park-To-Park ticket in order to ride. So, those who have purchased multiple day tickets but it doesn't feature the park-to-park add-on will not be permitted to make the journey according to the statement on the site.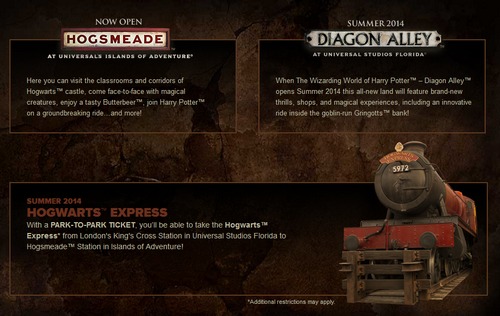 "With a PARK-TO-PARK TICKET, you'll be able to take the Hogwarts™ Express* from London's King's Cross Station in Universal Studios Florida to Hogsmeade™ Station in Islands of Adventure! "
That may be some extra galleons, but it sounds like the experience will be worth it!
Mark Woodbury, Universal Creative president, hosted the webcast and had guests: Matthew Lewis (Neville Longbottom), James Phelps (Fred Weasley) and Evanna Patricia Lynch (Luna Lovegood). They stood inside Gringotts complete with a few lucky families serving as an audience and even a few goblins walking about carrying gold. Mark is sticking with his "Summer of 2014" opening date. Rumors are still running that we could see a June opening. We will have to wait and see!
Onto the details! Here rundown of what we learned from the webcast….
Knockturn Alley will be a part of the expansion. Lewis provided a wonderful insight stating the addition of the "darker" area provides a balance and reality of good and evil. It seems the lone shop in this area is Borgin and Burkes. Death Eater masks, skulls and other "sinister objects" will all be for sale.
As I mentioned, it has been confirmed that park guests will need a "Park-To-Park" ticket to ride the Hogwarts Express. It was hinted that the attraction is an actual ride versus just a way to shuttle guests between the two areas. We were shown a tiny peek into the train complete with carriages that will show guests a view of the English countryside on the journey. Here is where my theory of a Dementor attack fits in. It's not confirmed, but I'd bring a chocolate frog just in case!
Lewis, Phelps and Lynch all praised the accuracy of the completed work so far. We were assured that J.K. Rowling had her hand in the expansion along with some of the VIP of the Potter filming team.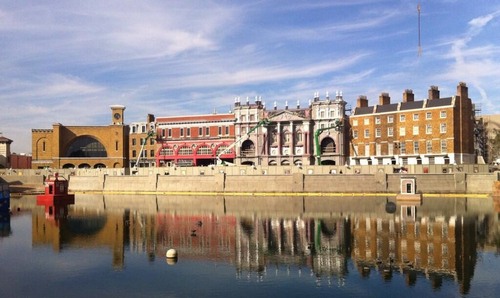 More details were learned from the new site that launched today. The line of buildings we saw in photos recently have been named. From left to right they are: King's Cross Station, Leicester Square Tube Station, Wyndham Theatre, and Grimmauld Place.
A list of the shops was also provided:
*As you walk into Diagon Alley, you will find The Leaky Cauldron on your left which will be a restaurant offering a full menu.
*Weasley's Wizard Wheezes will be across the street and offer Skiving Snack Boxes, Decoy Detonators, Extendable Ears, Pygmy Puffs, Fanged Flyers and Boxing Telescopes.
*Quality Quidditch Supplies is next door to Weasley's and there you can buy sweaters, brooms, Godlen Snitches, Bludgers, Bludger bats and Quaffles along with hats and pennants from your favorite teams including Holyhead Harpies, Chudley Cannons, Ireland or Bulgaria.
*Madam Malkins will be home to all your school attire desires. Robes, costumes, jewelry, ties, scarves, jumpers and cardigans will be offered in the four houses: Gryffindor, Ravenclaw, Hufflepuff and Slytherin.
*A second Ollivander's Wand Shop will be in the middle of the alley. Replica wands and unique wands will choose the wizard here.
*Fortescue's Ice Cream shop will be located just outside Gringotts. If you haven't already tried the Strawberry and Peanut Butter ice cream from the tiny carts or Three Broomsticks in Hogsmeade, here is a great shop to stop by. Other unique flavors will be available and I for one am thrilled!
*Wiseacres Wizarding Equipment is where you will find all your wizarding wares and supplies like telescopes, binoculars, compasses, armillary spheres, hourglasses and unique selection of apparel from the 4 Hogwarts houses. I also noticed what appears to be Hagrid/Sirius' motorbike outside the entrance!
*The Magical Menagerie was also confirmed in the webcast. Toys and stuffed animals will be available here.
Harry Potter and the Escape From Gringotts ride will be amazing and encompass new thrills. Enter the grand marble lobby and watch goblins working. Then guests journey through the cavernous passages and then you will experience the "groundbreaking new, multi-dimensional thrill ride."
Mugglenet also reports that an additional street has also been created Rowling to accommodate guests and enhance the experience.
"We have a new street here. This is Diagon Alley, and this cross street is actually Horizont Ally. That came from J.K. [Rowling] herself. There were other streets but in the film they only ever showed Diagon […] Harry got to Knockturn and Diagon, but in order to tell more of the story, a more authentic city experience, we needed to create more streets, and she would have had them if the story went further, but this is now where they exist." – Alan Gilmore
In Horizont Ally, you will find Wiseacres and a new area Rowling dubbed Carkitt Market. From the details we were let in on, it appears it will be a gathering area to give guests a feel of London. To me, it sounds like an area slightly similar to the Owlery in Hogsmeade where tired park patrons can take a load off and just enjoy the surroundings.
Changes were also made the existing Hogsmeade area. Honeydukes will be expanded and items from Zonkos will be moved to Weasley's Wizard Wheezes.